"Arkham" (S1/E4)
Author: Bill "Jett" Ramey (Follow @BATMANONFILM)
October 18, 2014

EPISODE INFO: "Arkham" was written by Ken Woodruff and directed by T.J. Scott. It originally aired on the FOX television network on October 13, 2014. It is based on "Batman" characters owned and published by DC Comics.
MAIN CAST: Ben McKenzie (Jim Gordon), Donal Logue (Harvey Bullock), Jada Pinkett-Smith (Fish Mooney), Erin Richards (Barbara Keen), David Mazouz (Bruce Wayne), Camren Bicondova (Selina Kyle), Sean Pertwee (Alfred Pennyworth), Robin Lord Taylor (Oswald Cobblepott) Zabryna Guevara (Sarah Essen)
EPISODE PREVIEW: Preview #1 | Preview #2
PREVIOUS EPISODE: S1/E3 "The Balloonman" Review by Bill "Jett" Ramey (10.10.14)
SYNOPSIS: A hit man targets both sides of the city council as the fate of the Arkham district is decided. Jim and Harvey are assigned to find the killer's next target and protect him. Meanwhile, Oswald worms his way into Maroni's good graces, and Fish goes recruiting. >>> Buy & Watch via AMAZON INSTANT VIDEO
Four episodes in, and it looks like GOTHAM is finally finding its way.
Unless it isn't.
For me, "Arkham" (S1/E4) has been the most enjoyable episode to date. Now, that might be due to the fact that many of the subplots are starting to jibe and thus, make more sense to the viewer. Like any serialized TV drama, that's probably par for the course. However, many of the series' issues – cheesiness, eye roll-inducing dialogue, and wooden acting – remain despite GOTHAM's overall improvement.
This week, the mob war between the Falcone and Maroni families escalate as Gotham voters are about to go to the polls to decide on the future of the Arkham area of the city. We also witness The Penguin (again, the best aspect of the show by far) slowly start to slither his way up Gotham's organized crime hierarchy. And, of course, more of Jada Pinkett Smith's over-the-top Fish Mooney. Really, the only purpose for Fish in "Arkham" was to (again) provide Harvey Bullock with inside info (I guess they've both forgotten that she recently tried to have him murdered), as well as to "sex up" the episode by introducing her new young hot-chick-who-can't-sing-but-can-fight girlfriend.
Oh yeah, lest we forget, more of the young brooding Bruce Wayne, well, brooding and doing things – like a little detective work – so that the audience will think, "Yeah, that kid is probably going to grow up and be Batman some day!" - Bill "Jett" Ramey
GRADE: B-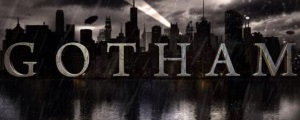 GOTHAM airs Mondays at 7PM CT/8PM ET on FOX.
CLICK HERE for all of BOF's GOTHAM coverage.



comments powered by