"The Balloonman" (S1/E3)
Author: Bill "Jett" Ramey (Follow @BATMANONFILM)
October 10, 2014

EPISODE INFO: "The Balloonman" was written by Bruno Heller and directed by Danny Cannon. It originally aired on the FOX television network on October 6, 2014. It is based on "Batman" characters owned and published by DC Comics.
MAIN CAST: Ben McKenzie (Jim Gordon), Donal Logue (Harvey Bullock), Jada Pinkett-Smith (Fish Mooney), Erin Richards (Barbara Keen), David Mazouz (Bruce Wayne), Camren Bicondova (Selina Kyle), Sean Pertwee (Alfred Pennyworth), Robin Lord Taylor (Oswald Cobblepott) Zabryna Guevara (Sarah Essen)
EPISODE PREVIEW: Preview #1 | Preview #2
PREVIOUS EPISODE: S1/E2 "Selina Kyle" Review by Bill "Jett" Ramey (9.30.14)
SYNOPSIS: While Oswald returns to Gotham to find a new patron, Gordon and Bullock track down a vigilante who uses weather balloons to kill the corrupt. >>> Buy & Watch via AMAZON INSTANT VIDEO
GOTHAM takes a step back with episode #3, titled "The Balloonman."
It's apparent to this viewer that the series is still finding its way and has yet to decide what it really wants to be. Thus, I don't really know what it is.
Right now, it seems as if GOTHAM is walking a fine line between being a pseudo-realistic urban crime drama and a show based on a comic book with lots of comic booky stuff.
This week, we find a disgruntled Gothamite take the law into his own hands by hooking weather balloons to corrupt officials to lift – and ultimately drop – them to a violent death. Yes, "The Balloonman" is Gotham's very first costumed vigilante.
If the concept of The Balloonman sound silly, that's because it is. This episode's core storyline consisted of Gordon and Bullock playing good cop/bad cop (literally) all the while trying to hunt down this Balloonman character culminating in a very predictable ending.
In addition to Gordon and Bullock chasing balloons, this episode features more of Jada Pinkett Smith's over-the-top acting (is she channeling Eartha Kitt?) as Fish Mooney, solo Gordon still looking for the real Wayne killer (with a little help this week from Camren Bicondova's Selina "Cat" Kyle), and Oswald "The Penguin" Cobblepott's return to Gotham.
As I've said the last two weeks, Robin Lord Taylor's Penguin is the best thing about GOTHAM. Whether it's good writing, good acting, a combination of both as is the case here methinks), this just might be the best live-action incarnation of this Batman character to date. Of course, he's not yet "THE PENGUIN," so I'm really looking forward to seeing what happens with this character over the course of this season – especially since his first "Return to Gotham" job is being a busboy.
Being a simple busboy may end up being a good career move especially when it leads to Sal Maroni (David Zayas) taking a shine to you.
As far as our future Batman, we get a few brief scenes with the young Bruce Wayne (David Mazouz) and his butler/new father Alfred Pennyworth (Sean Pertwee). Master Wayne isn't listening to industrial metal, cutting, or barbequing his hand this week (yes, we get it that he's dark and intense). No, we actually see him having a bit of fun which was not only cool, but seems to be some purposeful chemistry building between Bruce and Alfred. Honestly, I'm not really sure what purpose these two characters have in this series right now other than to remind viewers that Batman is in it even though he's not in it – you know what I mean?
Just like you can't predict how a football team's going to end up in January based on an early September game, I'm not going to judge GOTHAM based on such a small sample. So far, I'd say that like "The Balloonman," GOTHAM is operating at slightly above average clip. It makes me wonder…
Would this TV series work – or even matter to viewers – if it wasn't for the "Batman" element? - Bill "Jett" Ramey
GRADE: C+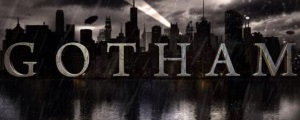 GOTHAM airs Mondays at 7PM CT/8PM ET on FOX.
CLICK HERE for all of BOF's GOTHAM coverage.



comments powered by