"Red Hood" (S1/E17)
Author: Ricky Church (Follow RICHARDCHURCH16)
February 22, 2015

EPISODE INFO: "Red Hood" was written by Danny Cannon and directed by Nathan Hope. It originally aired on the FOX television network on Monday, February 23, 2015. It is based on "Batman" characters owned and published by DC Comics.
SYNOPSIS: Following several bank robberies, Gordon and Bullock investigate the Red Hood gang. Selina Kyle continues to bond with Barbara, and Fish Mooney tries to reclaim her position in the underworld.
MAIN CAST: Ben McKenzie as Detective James Gordon, Donal Logue as Harvey Bullock, Jada Pinkett Smith as Fish Mooney, Sean Pertwee as Alfred, Robin Lord Taylor as Oswald Cobblepot/The Penguin, Erin Richards as Barbara Kean, David Mazouz as Bruce Wayne, Camren Bicondova as Selina Kyle/the future Catwoman, Zabryna Guevara as Captain Sarah Essen, Cory Michael Smith as Edward Nygma/the future Riddler, Victoria Cartagena as Renee Montoya, Andrew Stewart Jones as Crispus Allen, John Doman as Carmine Falcone.
GUEST CAST: Drew Powell as Butch Gilzean; Clare Foley as Ivy Pepper; Sharon Washington as Molly Mathis; David O'Hara as Reggie; Jonny Coyne as Destro; Jenna Gavigan as Manager's Secretary; Takeo Lee Wong as Chaing; and Jeffrey Combs as Office Manager.
EPISODE PREVIEW: Preview #1
PREVIOUS EPISODE: S1/E15 "The Blind Fortune Teller" Review by Ricky Church (2.17.15)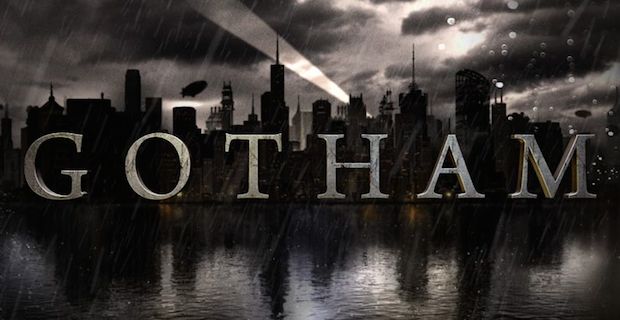 Gotham improved slightly this week thanks to a good focus on Alfred's backstory, though the main story involving Gordon's hunt for the Red Hood Gang was somewhat cheesy in a few scenes.
Despite the possibility Jerome from last week's "The Blind fortune Teller" could end up becoming The Joker one day, the show continued with its Joker teases as the Red Hood Gang, an aspect writers often use with Joker's origin, was introduced to the show's mythology. The gang members themselves weren't too interesting, especially after the initial Red Hood was killed off, but it did bring up an intriguing new element to the Red Hood.
Gotham used the red hood as an object that bestows good and bad luck on its wearer, but always brought misfortune to those who choose to wear it in the end. Not only that, but it seems to have made them temporarily insane as they acted quite unlike themselves in the prior scenes. The latter aspect is what made some of this story cheesy as it was too on the nose, but it is an interesting concept that the red hood had always been a cursed object, one that would create a far more notorious criminal than the Red Hood.
Even though the Red Hood Gang was the episode's main draw, the real highlight was actually Alfred's story as he reconnected with an old friend from his army days. Alfred hasn't appeared very much this season, especially in recent episodes, nor has he been given any significant development. "Red Hood" was the first episode to shine a light on Alfred's time in the military and the shady things he's done. This proved very insightful, especially as this version of Alfred is much more rough around the edges than any Alfred previously seen onscreen. He clearly has his own demons he's privately battling with.
Gotham's recurring problem of cramming too much into one episode was still prevalent here as the scenes with Penguin, Barbara and Fish stood out like a sore thumb when time could have been better spent with either the Red Hood or Alfred/Wayne conspiracy plot. Though it's unlikely the show will resolve this problem this season, hopefully it will be resolved for season two.
STRAY THOUGHTS...
* At least Fish's plot got some further momentum. Her 'checkmate' move was quite surprising and gross.
* Did they seriously give Dollmaker the name Dahl Macher? Really?
* The terrible comedian was also another Joker tease. How many more will there be by the season's end?
* The Red Hood's speech to the bank customer's was very reminiscent of Robert De Niro's in Heat, which was one of Nolan's influences on The Dark Knight.
GRADE: B-


GOTHAM airs Mondays at 7PM CT/8PM ET on FOX.
CLICK HERE for all of BOF's GOTHAM coverage.



comments powered by