"The Blind Fortunre Teller" (S1/E16)
Author: Ricky Church (Follow RICHARDCHURCH16)
February 17, 2015

EPISODE INFO: "The Blind Fortune Teller" was written by Bruno Heller and directed by Jeffrey G. Hunt. It originally aired on the FOX television network on Monday, February 16, 2015. It is based on "Batman" characters owned and published by DC Comics.
SYNOPSIS: Gordon takes Dr. Leslie Thompkins (guest star Morena Baccarin) to the circus, but the day turns quickly when the circus comes under attack. Then, Falcone enlists Butch Gilzean to help Penguin with the night club, while Fish Mooney is otherwise occupied. Also, Bruce Wayne schedules a meeting with the Wayne Enterprises board.
MAIN CAST: Ben McKenzie as Detective James Gordon, Donal Logue as Harvey Bullock, Jada Pinkett Smith as Fish Mooney, Sean Pertwee as Alfred, Robin Lord Taylor as Oswald Cobblepot/The Penguin, Erin Richards as Barbara Kean, David Mazouz as Bruce Wayne, Camren Bicondova as Selina Kyle/the future Catwoman, Zabryna Guevara as Captain Sarah Essen, Cory Michael Smith as Edward Nygma/the future Riddler, Victoria Cartagena as Renee Montoya, Andrew Stewart Jones as Crispus Allen, John Doman as Carmine Falcone.
GUEST CAST: Drew Powell as Butch Gilzean; Morena Baccarin as Dr. Leslie Thompkins; Carol Kane as Gertrude Kapelput; Anthony Carrigan as Victor Zsasz; Dashiell Eaves as Kelly; James Monroe Iglehart as Ringmaster; Robert Gorrie as John Grayson; Abbi Snee as Mary Lloyd; and Cameron Monaghan as Jerome.
EPISODE PREVIEW: Preview #1
PREVIOUS EPISODE: S1/E15 "The Scarecrow" Review by Ricky Church (2.9.15)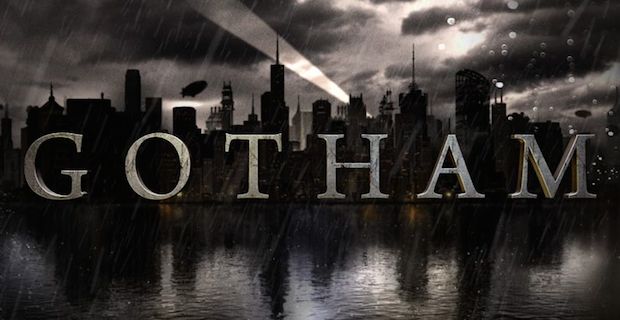 "The Blind Fortune Teller" was, simply put, an uneven mess of an episode.
The episode's tone was all over the place, juggling between serious material and campy bits while dealing with Gordon and Leslie's continuing relationship woes. All this in such a big episode – which also possibly introduced viewers to the future Clown Prince of Crime.
The biggest plot that felt rather out of place and campy was Fish Mooney's as she still found herself trapped in an apparent black market organ operation. One of the main reasons this didn't work too well was because she's only been trapped down there for one episode and yet she's giving a rousing speech to all the captives about how they're family and should stick together. Of course she could be manipulating the captives with a sense of family, but there's no real sense of plight for her or any of the other captives, especially since viewers haven't gotten time to know any of them. The campiness of this plot came directly from Fish's speech. Its also of note that the episode ended on her rather than, say, showing more of Jerome, the story's main hook, in a cell laughing away.
Gordon and Leslie's relationship got a surprising amount of focus in "The Blind Fortune Teller." It was nice to see Gordon called out on the hypocrisy he was showing Leslie. After all, he wanted someone who could deal with the stress of his professional life, yet doesn't want to show the slightest affection at work or include her on cases so it was good to see that fully addressed. However, Leslie's belief and insistence in Cicero's message from beyond came out of left field. It could have worked, but her belief in the unexplained was, ironically, not adequately explained. It just seemed weird given her character and profession in science.
And now, the real meat of the episode…
Cameron Monaghan's performance of Jerome in his final scene was the highlight of 'The Blind Fortune Teller." When he made his turn from the meek kid to creepy, crazy killer by the story's end, it was a believable turn. Some of his dialogue may have been a little too on the nose, though, and some may argue his speech pattern was a little too close to Heath Ledger's, but overall it was a good performance. He certainly has the look and laugh of the character Bruno Heller wants viewers to think he is and it would be no surprise if Jerome popped up again very soon.
However – assuming Jerome is indeed The Joker and is not a red herring – it must be pointed out that The Joker's origin technically happened years before his introduction on GOTHAM. Jerome clearly snapped a long time ago and all that is missing is his trademark look. It's a bit of a cheat for the viewers when they're teased that they'll see what shaped The Joker only to learn he snapped years earlier.
STRAY THOUGHTS...
* One of the best parts of the episode was Penguin's off screen kill of the man who insulted his mother. Sadly, the episode slipped from there.
* Its kind of weird Gotham set up a subplot with Barbara and her parents only to drop it so soon (and off screen). Also, is she seriously taking relationship and fashion advice from street kids? Must be because she's a bit of a kid herself
* Gordon's still got no place to call home so of course he's going to be mad when he's taken away from his first hot meal in weeks!
* Mark Margolis' (Scarface, Breaking Bad) talents were wasted in this episode.
GRADE: C


GOTHAM airs Mondays at 7PM CT/8PM ET on FOX.
CLICK HERE for all of BOF's GOTHAM coverage.



comments powered by