"Welcome Home, Jim Gordon" (S1/E13)
Author: Bill "Jett" Ramey (Follow @BATMANONFILM)
January 28, 2015

EPISODE INFO: "Welcome Back, Jim Gordon" was written by Megan Mostyn-Brown and directed by Wendey Stanzler. It originally aired on the FOX television network on January 26, 2015. It is based on "Batman" characters owned and published by DC Comics.
MAIN CAST: Ben McKenzie as Detective James Gordon, Donal Logue as Harvey Bullock, Jada Pinkett Smith as Fish Mooney, Sean Pertwee as Alfred, Robin Lord Taylor as Oswald Cobblepot/The Penguin, Erin Richards as Barbara Kean, David Mazouz as Bruce Wayne, Camren Bicondova as Selina Kyle/the future Catwoman, Zabryna Guevara as Captain Sarah Essen, Cory Michael Smith as Edward Nygma/the future Riddler, Victoria Cartagena as Renee Montoya, Andrew Stewart Jones as Crispus Allen, John Doman as Carmine Falcone
GUEST CAST: Morena Baccarin as Dr. Leslie Thompkins, Drew Powell as Butch Gilzean, Anthony Carrigan as Victor Zsasz, Carol Kane as Gertrude Kapelput, Dash Mihok as Arnold Flass, and Niko Nicotera as Derek Delaware
EPISODE PREVIEW: Preview #1
PREVIOUS EPISODE: S1/E12 "What The Little Bird Told Me" Review by Richard Church (1.21.15)
SYNOPSIS: When the key witness in a homicide ends up dead while being held for questioning by the police, Gordon suspects that it's an inside job and looks to an old friend for information. Meanwhile, Oswald Cobblepot takes control of one of Fish Mooney's prized possessions, as she gets a gets a small taste of her own medicine.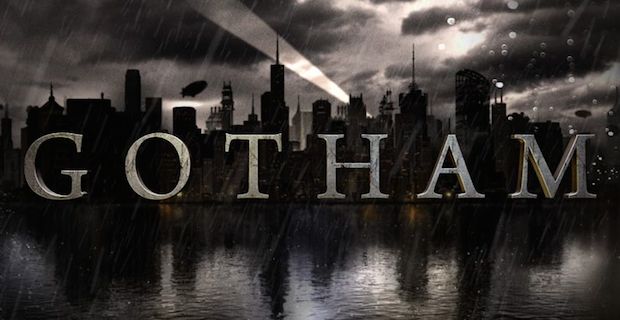 "Hey now!"
Besides Batman (and Elvis, the Texas Longhorns, and my beloved Dallas Cowboys), I'm also a HUGE Howard Stern fan.
One of the things I dig the most about the King of All Media is the fact that like me (and probably you too if you're reading this), he's a big comic book/superhero fan. However, Howard and I disagree about GOTHAM. Mr. Stern loves it; I think it's simply OK at best.
I know it's been a while since I reviewed an episode of GOTHAM as I handed off those duties to Ricky Church (who is doing a hell of a job, by the way) a few episodes into season one. But I'm still watching and my opinion of this series hasn't changed a bit. From where I (still) stand, GOTHAM just doesn't know what it really wants to be and has yet to find its way; despite the fact that we're now on the backside of its inaugural season.
To be honest, the main reason I watch GOTHAM is because I feel that I must due to the fact that I'm covering it on BOF and, well, it's something "Batman." Of the three DC Comics-based TV series that premiered on TV last Fall, I'd rank 'em as follows: 1) CONSTANTINE 2) THE FLASH 3) GOTHAM. Anyway, below you'll find my review of this week's episode, "Welcome Back, Jim Gordon." I'm stepping in for Ricky Church this week as he got married and is currently on his honeymoon – Congrats Rick!
In "Welcome Back, Jim Gordon," it appears bring Fish Mooney's story arc to an end – at least for now. I won't spoil anything for anyone, but her fate was a clear as day once she decided to take down Falcone. With the tides now turned for both Fish and The Penguin, one's feelings for both have done a 180 as well since we first met them in the episode one. Also, she calls on an unlikely ally to help her out in the end despite the fact that she once ordered his execution. Who am I talking about and what goes down between these two? I'll let you watch it for yourself to find out.
The episode's main storyline consists of Jim Gordon – who returns to the GCPD as a detective – investigating case of a drug dealer's murder which took place inside his own police station house. This brings on Gordon's epiphany that many of his brother policemen – including one of the force's best – are rotten to the core. This leads Jim to actively get his own act together since he's made some poor – albeit in the name of the long-term overall good – choices.
Robin Lord Taylor as The Penguin – the best part of GOTHAM – doesn't disappoint. His back-and-forth between being a devious, ambitious bastard (his real self), and cowardly kiss-ass is brilliant. RLT and this interpretation of The Penguin is my favorite live-action interpretation to date. (I don't criticize "The Dark Knight Trilogy" much, but I totally think Chris Nolan could've used the character of The Penguin in one of those films – particularly in THE DARK KNIGHT. It was a missed opportunity by Team Nolan, in my humble opinion.)

The Penguin, evidently, gets hairstyle tips from Barnabas Collins
After not appearing in the last two episodes (they were vacationing in Switzerland), Bruce and Alfred return to Gotham City for the sole reason, apparently, because Bruce is missing his girlfriend/crush Selina. All I'm going to say is that he finds her and their subsequent meeting and exchange comes off as a forced nod to a particular 1992 Batman movie that I detest. (Is there anyone who thinks it's just a coincidence that the young Ms. Bicondova looks A LOT like Michelle Pfeiffer?)
All in all, "Welcome Back, Jim Gordon" didn't sway me either way when it comes to GOTHAM. While I don't love it – like Howard Stern (and Robin too) – I certainly don't hate it. There's enough good there to keep me both interested and watching each week. I'll admit that the fact that GOTHAM goes against my personal Batman sensibilities (Batman comes first and his villains follow; not the other way around as GOTHAM's doing it) probably skews my opinion of this series.
"Babba Booey!"
GRADE: B-


GOTHAM airs Mondays at 7PM CT/8PM ET on FOX.
CLICK HERE for all of BOF's GOTHAM coverage.



comments powered by