Episode 1.18 "Everyone Has A Cobblepott" Synopsis/Cast List/Preview
Posted by: Bill "Jett" Ramey (Follow @BATMANONFILM)
March 1, 2015

Below you'll find the synopsis, cast list, and video preview of GOTHAM episode 1.18 titled "Everyone Has A Cobblepott."
SYNOPSIS: While Gordon seeks information about the recent controversy with Commissioner Loeb, Fish's allegiance with the prisoners is questioned when she appears to join forces with Dr. Dulmacher. Meanwhile, after an attack close to home, Bruce deals with the aftermath.
CAST: Ben McKenzie as Detective James Gordon, Donal Logue as Harvey Bullock, Jada Pinkett Smith as Fish Mooney, Sean Pertwee as Alfred, Robin Lord Taylor as Oswald Cobblepot/The Penguin, Erin Richards as Barbara Kean, David Mazouz as Bruce Wayne, Camren Bicondova as Selina Kyle/the future Catwoman, Zabryna Guevara as Captain Sarah Essen, Cory Michael Smith as Edward Nygma/the future Riddler, Victoria Cartagena as Renee Montoya, Andrew Stewart Jones as Crispus Allen, John Doman as Carmine Falcone.
GUEST CAST: Nicholas D'Agosto as Harvey Dent, Peter Scolari as Commissioner Loeb, Chelsea Spack as Kristin Kringle, Michael J. Burg as Charlie Griggs, Perry Yung as Xi Lu, Colm Feore as Dr. Francis Dulmacher, Dan Ziskie as Jude, Becky Ann Baker as Marge, Nicholle Tom as Miriam Loeb, Zachary Spicer as Tom Dougherty, Jeffrey Combs as Office Manager, Dashiell Eaves as Kelly, and Elliot Villar as Thomas Schmidt.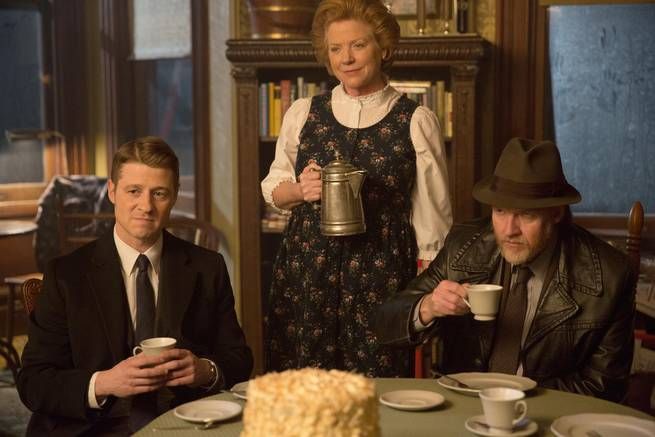 GOTHAM airs Monday nights at 8PM/7PM CT on FOX. CLICK HERE for all of BOF's GOTHAM coverage.



comments powered by