Episode 1.11 "Rogues Gallery" Synopsis/Cast List/Preview
Posted by: Bill "Jett" Ramey (Follow @BATMANONFILM)
January 3, 2015

GOTHAM is back!
Below you'll find the synopsis, cast list, and video preview of GOTHAM episode 1.11 titled "Rogues Gallery."
DET. GORDON REPORTS TO DUTY AT ARKHAM ON AN ALL-NEW GOTHAM
Det. Gordon's assignment at Arkham Asylum gets off to a rocky start when the murder of a guard ignites an investigation, leading him to meet Dr. Leslie Thompkins (guest star Morena Baccarin, "Homeland"). Meanwhile, Cobblepot continues to build his army in the all-new "Rogues' Gallery" episode of GOTHAM airing Monday, Jan. 5th (8:00-9:00 PM ET/PT) on FOX. (GTH-111) (TV-14 L, S, V)
Cast: Ben McKenzie as Detective James Gordon, Donal Logue as Harvey Bullock, Jada Pinkett Smith as Fish Mooney, Sean Pertwee as Alfred, Robin Lord Taylor as Oswald Cobblepot/The Penguin, Erin Richards as Barbara Kean, David Mazouz as Bruce Wayne, Camren Bicondova as Selina Kyle/the future Catwoman, Zabryna Guevara as Captain Sarah Essen, Cory Michael Smith as Edward Nygma/the future Riddler, Victoria Cartagena as Renee Montoya, Andrew Stewart Jones as Crispus Allen, John Doman as Carmine Falcone
Guest Cast: Morena Baccarin as Dr. Leslie Thompkins, Drew Powell as Butch Gilzean, David Zayas as Maroni, Allyce Beasley as Dorothy Duncan, Isiah Whitlock Jr. as Gerry Lang, Kyle Massey as Mackey, Christopher Heyerdahl as Jack Gruber, Kevin McCormick as Aaron Helzinger, Anthony Grasso as Ganza.
Also, here's a couple of promo pics of Morena Baccarin as Dr. Leslie Thompkins via EW.COM...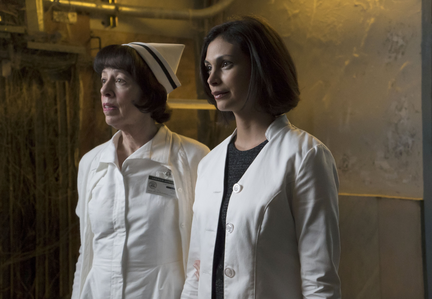 EW also has an exclusive video sneak peek of the episode. Click on the link provided to check it out.
GOTHAM airs Monday nights at 8PM/7PM CT on FOX. CLICK HERE for all of BOF's GOTHAM coverage.



comments powered by