Per
THEHOLLYWOODREPORTER.COM
, Warner Bros. is bringing
ARGO
writer Chris Terrio onto the project to give David Goyer's script a re-write/polish.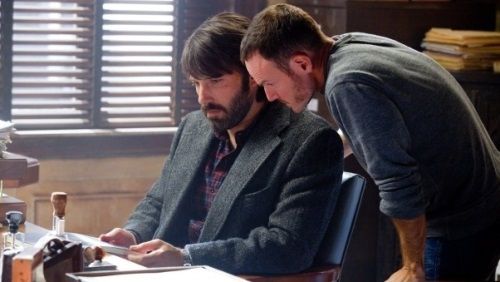 OK, this confirms/suggests two two things to me…
One, Ben Affleck – whom I've been told has A LOT of input on how Batman/Bruce Wayne is being depicted – will indeed have a major creative voice in this film. If so, YES!
And secondly, BA's getting his own guys on board to set up the first Batfleck solo film which he'll probably direct. YES!
Though I think this is a good thing and isn't any sort of indictment on David Goyer, I'm quite sure that the "Goyer Haters" will have a field day with this news. Also critics of this project – and you can count me as a kinda-sorta one, quite frankly – will start to see the flags popping up around it.
My take? I totally believe that and hope that Ben Affleck will have a HUGE influence on this film. Also, I wouldn't assume that Mr. Goyer's script "sucks" or anything, OK? Look, I've been a LONGTIME supporter of DG as Warner Bros.' DC on film guru, and that opinion hasn't wavered. This sort of stuff happens all the time – especially when you bring on a filmmaker/actor of Mr. Affleck's stature and plan on him being involved long term – you know what I'm sayin'?
BATMAN VS. SUPERMAN hits theaters on JULY 17, 2015.