RUMOR: WB Wants Affleck to Direct/Star in 3 Bat-Films? AND...
The DCEU To Be Centered Around Batman?
Posted by: Bill "Jett" Ramey (Follow @BATMANONFILM)
August 7, 2015

Could the followng happen? Certainly. Could this report be complete and total BS and all of it still happen? Absolutely.
According to a report from DENOFGEEK.US, "a near finished cut" of BATMAN v SUPERMAN was screened for a handful of Warner Bros. execs and was so well received, they gave it a standing ovation. Not only that, Warner Bros. is so impressed with Ben Affleck as Batman that they want him to direct and star in a trilogy of solo Batman films -- not just the one stand along Batfleck Batflick already announced.
And that's not all folks!
The Warner Bros. suits love 'em some Batfleck so much, they want the entire DCEU (DC Extended Universe) to be revolve around Affleck's Batman.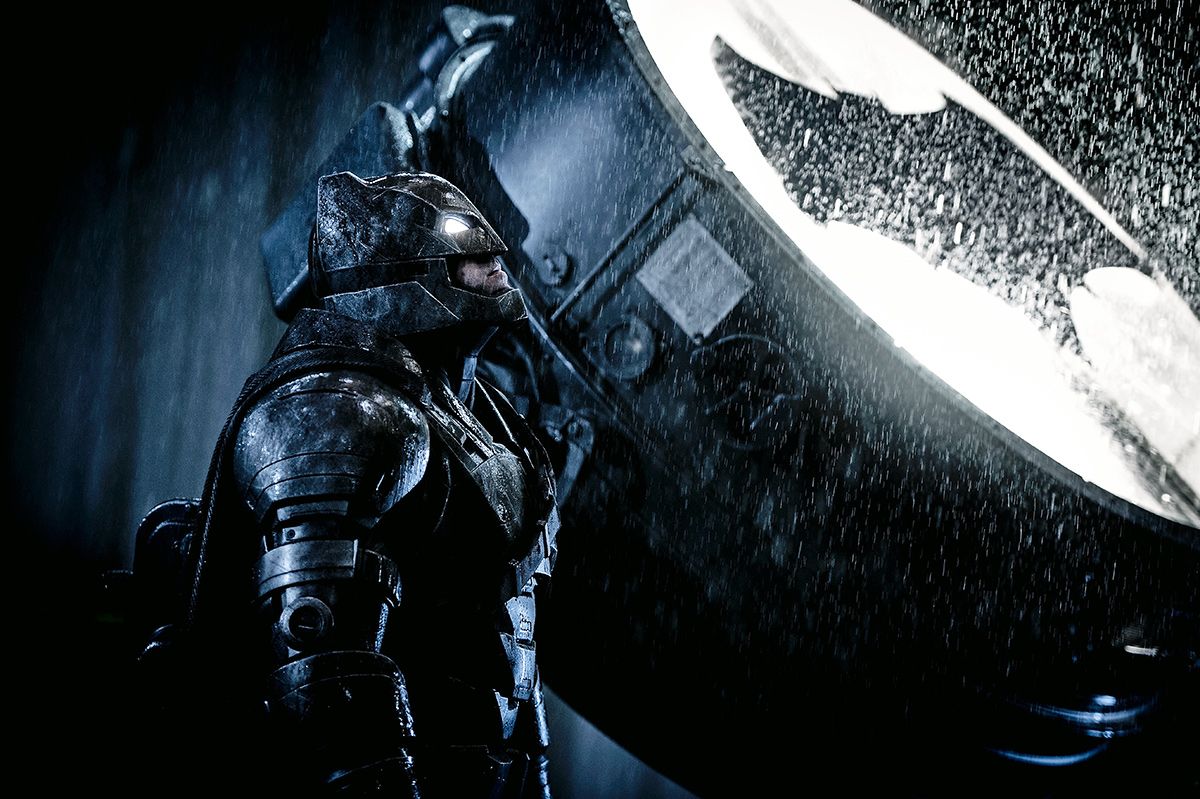 Ben Affleck as Batman in BATMAN v SUPERMAN: DAWN OF JUSTICE
It's no secret that Batman is WB's money maker and they're going to shake it as much as possible. Therefore, all of this could be true and come to pass. However, since the possibility of most – if not all – of this could come to pass in the future, this sounds to me like someone throwing mud at the wall and then waiting to see what sticks. To be fair, the outlet does thrown in a disclaimer by saying "this is all unconfirmed at this point."
Frankly, I have a hard time seeing Affleck making more than one solo Batman film. The whispers I've heard is that Ben's Batman film will likely be a "one and done" and revolve around the final confrontation between Batman and The Joker. I know that Affleck could play Batman for another ten years plus, so age isn't the issue. The thing with Affleck is that he's a top-notch director and writer as well as an actor. I simply don't see him committing to playing one character in several films for over a decade (as well as writing/directing/starring in three of them).
I guess we'll have to wait and see how thick that mud actually is. For the original story, click on the link provided above.
What do you all think? Post your thoughts in the comments section below!
BATMAN v SUPERMAN: DAWN OF JUSTICE hits theaters on MARCH 25, 2016!
Fearing the actions of a god-like Super Hero left unchecked, Gotham City's own formidable, forceful vigilante takes on Metropolis's most revered, modern-day savior, while the world wrestles with what sort of hero it really needs. And with Batman and Superman at war with one another, a new threat quickly arises, putting mankind in greater danger than it's ever known before. Directed by Zack Snyder, the film stars Ben Affleck, Henry Cavill, Amy Adams, Jesse Eisenberg, Diane Lane, Laurence Fishburne, Jeremy Irons, Holly Hunter and Gal Gadot. Snyder directed from a screenplay written by Chris Terrio and David S. Goyer, based on characters from DC Comics, including Batman, created by Bob Kane, and Superman, created by Jerry Siegel and Joe Shuster. The film is produced by Charles Roven and Deborah Snyder, with Wesley Coller, Geoff Johns and David S. Goyer serving as executive producers. Warner Bros. Pictures presents, an Atlas Entertainment/Cruel and Unusual production, a Zack Snyder film, "Batman v Superman: Dawn of Justice." The film opens nationwide in 3D and 2D and in select IMAX theaters on March 25, 2016, and will be distributed worldwide by Warner Bros. Pictures, a Warner Bros. Entertainment Company.

comments powered by