OPINION: BvS Trailer #1 Review
Author: Rick Shew (Follow @SHEWRICK)
April 18, 2015

Escalation.
Anyone that has known me for more than nine minutes knows my passionate love for The Batman, my unwavering appreciation for Tim Burton's original film, and Chris Nolan's, almost flawless, "Dark Knight Trilogy." Every other Batman movie is garbage to me, even Tim Burton's second film…. especially Tim Burton's second film.
After the empirically silly Joel Schumacher films, screen incarnations of The Batman were all absent one very significant quality: Dignity. That quality was not restored until Nolan's brilliant BATMAN BEGINS was released in 2005. His and Christian Bale's Batman/Bruce was angry, disciplined, animalistic, tortured and determined. It was a beautiful portrayal that spanned three brilliant movies, but once it wrapped with the much underappreciated THE DARK KNIGHT RISES, I was not sure where Batman would go on the big screen. All I really hoped was for it to maintain that one very crucial component: Dignity. Based on the brand new BATMAN v SUPERMANtrailer, it looks as though my wish has been granted.
The op-ed continues after the trailer!

Now, technically speaking, BvS IS a sequel to MAN OF STEEL, and even though it had its flaws, I really loved that film, and I am glad that Henry Cavill is back and Zack Snyder once again at the helm. This universe has a much more heightened reality than Nolan's, and Snyder is the perfect person to strike the needed balance of fantasy and gritty realism.
In fact, the first thing that popped into my head while viewing the trailer was how much more of Zack Snyder's touch appears to be in this film – much more than MAN OF STEEL. It looks beautifully stylistic and incredibly intoxicating at the same time. In fact, I am still trying to determine if Gotham was showcased, or is this simply a post MOS Metropolis. I am not sure, but I want to know more!
I am an unapologetic Frank Miller fan, so I am loving the homages to THE DARK KNIGHT RETURNS. And the final clip when we hear Affleck's Batman for the first time gave me chills. (Side note: I did notice two shots of Ben Affleck's Batman look lifted straight from THE DARK KNIGHT RISES. Do you see them?)
But to come full circle here, I feel like there is a theme that can be embraced. Much like Batman in THE DARK KNIGHT, it appears this new Superman is dealing with his very own escalation. Unlike Batman, Superman is an alien with superpowers, so Snyder obviously can't give us "copy cats," but there is something just as insidious happening here: Worship. Throughout the trailer you see people grasping for Superman, with a fervent Catholic's Pope-obsessed look in their eyes. But as opposed to unadulterated love, it is more of an ethereal obsession. Superman is now a God in many people's eyes, and this seems to be the catalyst for many issues that will lie ahead. After all, there was a statue built of the Man of Steel, but then it was defamed with the chilling words: False God. My guess is this God complex is also what triggers Lex to wreak havoc. Because we KNOW that's coming.
There are so many beautiful shots revealed in this first trailer, but they're intertwined with the dark, aggressive soundtrack, as if there is a perpetual yin and yang theme unfolding in front of our very eyes. Our Kryptonian hero appears to be loved and hated with equal vehemence.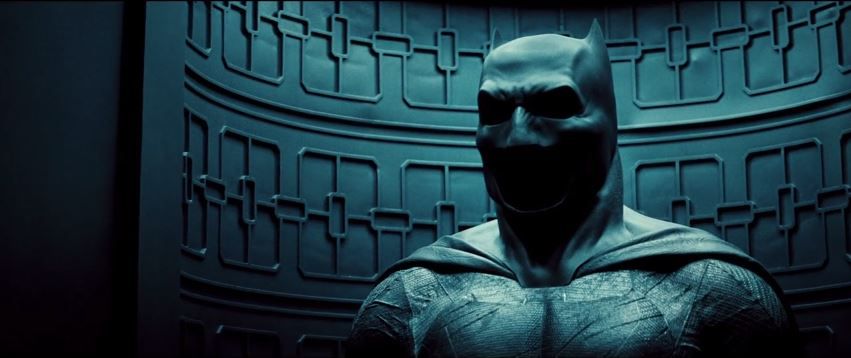 In "The Dark Knight Trilogy," there were such heartwarming performances by Christian Bale and Michael Cain, I wasn't sure that I ever cared to see a live action Bruce and Alfred again. I mean, why bother? But their moment in this trailer is amazing. And you can tell that this will be a very different Bruce and a very different Alfred, but with the promise of equal greatness.
Yesterday was a big day for me. I am also lifelong STAR WARS fan and the new trailer could not have been more perfect. I have been walking around saying, "Chewie. We're home," all damn day! Thankfully, this trailer has given me the same since of awe. It has tapped into my inner child, and I've been up reading comic books late at night when I was supposed to be in bed. Just like seeing Han Solo and Chewie back on screen together, seeing my two favorite comic book characters of all time together reminded me of why I fell in love with these characters in the first place. I am coming out of my skin excited!
DAWN OF JUSTICE is just that, the beginning of the inevitable Justice League franchise, and from what I see, so far (including Wonder Woman's and Aquaman's press photos) Zach Snyder is ready to show the world why the DC universe of characters is far superior to Marvel's. And he'll do it with one, very crucial theme…
Dignity. - Rick Shew
Rick Shew is a lifelong Batman fanatic.
His love for Batman traces back to the ripe age of 5 when he became obsessed with the 1960's TV show and later a diehard Batman bomic book reader (THE KILLING JOKE remains his all time favorite).
As an actor, Rick has appeared in numerous films, local & national commercials and over a dozen theatrical productions. However, his favorite gig of all time was playing Superman, alongside Batman, Batgirl, The Green Lantern & Wonder Woman in the "DC Comics Live" show at Six Flags San Antonio, TX.
Although Rick attended The University of North Texas, he is a diehard Texas Longhorns football fan. He is a HUGE fan of THE Dallas Cowboys as well (#DezCaughtIt).
Other likes include cooking, reading and hosting his left leaning political page LeftShewPolitics.
Rick resides in Dallas with his 3 beautiful women (his wife and their 2 daughters), his kitty cat and his dog, Cooper.
Even though Rick has a full-time job with a hospitality/software company based out of San Francisco, he also helped conceptualize a bar in Dallas (where he also sits as a financial investor), NICKEL AND RYE. So, when in Dallas, please come have a bite and a drink!
Follow Rick on Twitter @SHEWRICK.

comments powered by