OPINION: BvS Trailer #1 "Scattershot Review"
Author: Jett (Follow @BATMANONFILM)
April 18, 2015

I've always thought it was a bit, well, silly to review a trailer for a film. Frankly, there's no way one can – or should – judge a movie based on 2 minutes of out of context snippets pulled from it.
Based on what I've seen online, reaction is mixed. While some love it and some hate it (which seems mostly to be fanboys who are like Mikey and hate everything), it seems the overall take is "It's alright I guess."
With all that said, here's the first trailer for BATMAN v SUPERMAN: DAWN OF JUSTICE followed by my, well, review," "Scattershots" style…
Clearly, Zack Snyder is in control of this film. Simply based on the 2 minutes of BvS we see in the trailer, it looks much more like a "Zack Snyder Movie" than MAN OF STEEL. Is this because Chris Nolan isn't actively involved on BvS as he was with its predecessor? Probably – and that's not meant to be a criticism of Chris or Zack, it's just the fact of the matter…
Based on what Snyder showed us in the trailer, it certainly jibes with Warner Bros. going with a "gritty and realistic" approach when it comes to the DC Cinematic Universe. Yes, Superman is an invulnerable flying alien and that's certainly not realistic. However, going with the "What if an invulnerable flying alien showed up on our world" approach is something I like a lot. And I do believe that people would react the same way as the film is going to depict: they'd either worship him as a god or fear he's become a conqueror and tyrant...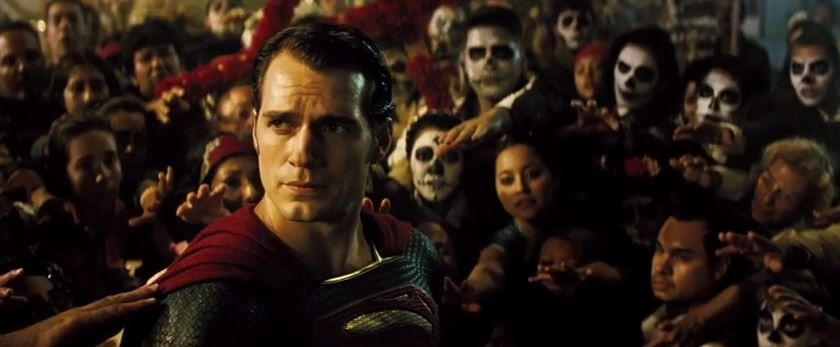 What's the deal with the "Superman Soldiers?" I have a theory based on some intel I got back when BvS was still filming. However, I'm going to keep it to myself as it's definitely a spoiler if it's true (and I'm sure it is). All I'll say is that it's going to be one hell of a trip to see in the movie! Something that people have long dreamed about…
Not long ago, I wrote an op-ed on BOF titled "Who Is the Most Physically-Suited Actor to Play Batman on Film?" In it, I said it was Ben Affleck even though all we had seen was paparazzi pics of him jacked up from hitting the gym and two publicity stills of BA in the Bat-suit. After seeing watching this trailer, I was 100% right. Furthermore, the Batman in BvS is the most faithful adaptation of the character from comic to film to date…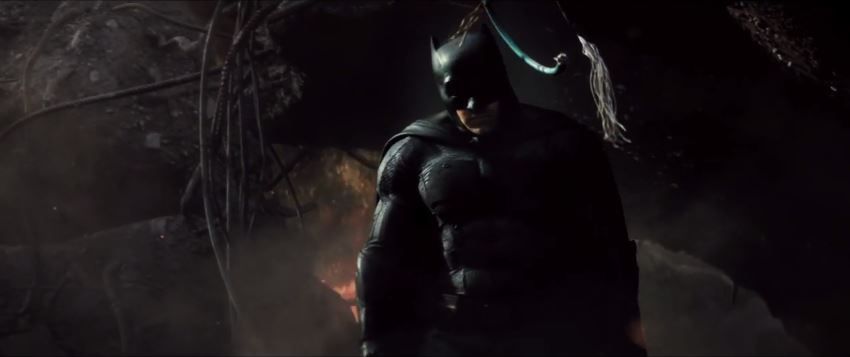 Jeremy Irons' voice-over as Alfred – paired with a shot of an angry, yet stoic Bruce Wayne – was awesome. And is that an "Easter Egg" behind Batfleck's right shoulder...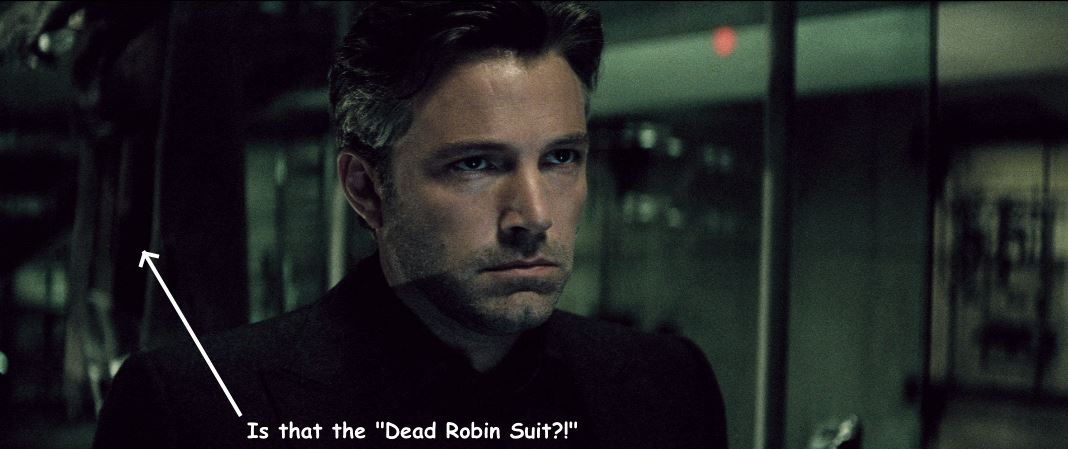 That shot of Batman on top of a crane (and that's what he's standing on because I was told that back in the Fall when that scene was filmed) looks fantastic! And Batman with the grappling rifle is, of course, a blatant nod to THE DARK KNIGHT RETURNS…
I would have liked to have seen a shot of the Batmobile from the front. It looks a lot like The Tumbler from the shot in the trailer...
Seems The Riddler already exists in the DCCU...
And finally, the last thing we see in the trailer is, apparently, Batman and Superman fixin' to throw down. I really liked the shots of Superman from Batman's point of view and vice-versa. And I know that everyone has been talking about Batman's voice when he says, "Tell me…do you bleed? You will." Yeah, it sounds awesome, but what if that isn't Batman? Mark Hughes proposed that hypothesis to me yesterday via a text and now he's got me thinking. So if it isn't Batman, who the hell could it be? Someone who's out to get Superman for sure…
Overall, I thought the trailer was OK to good and about what I expected in terms of revelations. We know that a plot point will be Superman being both worshiped and feared and that Lex Luthor (Jesse Eisenberg) will be fanning the flames of the latter; Batman looks awesome and is a badass; and, Batman and Superman will fight at some point. Why? I guess we'll have to wait to see the film to find out.
What did you think of BvS Trailer #1? Post your take in the comments section below! - Bill "Jett" Ramey
A life-long Batman fan, Bill "Jett" Ramey
is the founder of BATMAN-ON-FILM.COM.
He likes Elvis, Rock-N-Roll,
The University of Texas, cold beer,
Dallas Cowboys Football, and of course...
THE BATMAN!
He resides in the GREAT state of TEXAS with his lovely wife, three kids, and two Boston Terriers.

comments powered by