Has BvS' Runtime Been Revealed?
Posted by: Bill "Jett" Ramey (Follow @BATMANONFILM)
Date: December 21, 2015

Via DCCOMICSMOVIE.COM, a German website pre-selling BvS tickets lists the runtime for the film at 151 minutes (2 hours 31 minutes). That would make it longer than its predecessor, MAN OF STEEL (2 hours 23 minutes), but not as long as the last entry in "The Dark Knight Trilogy" (2 hours 45 minutes). Keep in mind that Warner Bros. has yet to officially release or confirm how long BvS will be, so take this report with a grain of salt.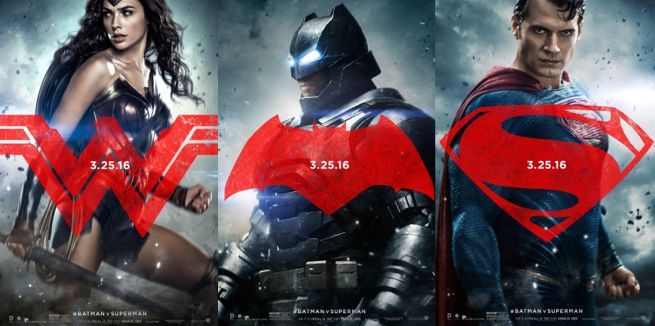 BATMAN v SUPERMAN: DAWN OF JUSTICE hits theaters on MARCH 25, 2016!
Fearing the actions of a god-like Super Hero left unchecked, Gotham City's own formidable, forceful vigilante takes on Metropolis's most revered, modern-day savior, while the world wrestles with what sort of hero it really needs. And with Batman and Superman at war with one another, a new threat quickly arises, putting mankind in greater danger than it's ever known before. Directed by Zack Snyder, the film stars Ben Affleck, Henry Cavill, Amy Adams, Jesse Eisenberg, Diane Lane, Laurence Fishburne, Jeremy Irons, Holly Hunter and Gal Gadot. Snyder directed from a screenplay written by Chris Terrio and David S. Goyer, based on characters from DC Comics, including Batman, created by Bob Kane, and Superman, created by Jerry Siegel and Joe Shuster. The film is produced by Charles Roven and Deborah Snyder, with Wesley Coller, Geoff Johns and David S. Goyer serving as executive producers. Warner Bros. Pictures presents, an Atlas Entertainment/Cruel and Unusual production, a Zack Snyder film, "Batman v Superman: Dawn of Justice." The film opens nationwide in 3D and 2D and in select IMAX theaters on March 25, 2016, and will be distributed worldwide by Warner Bros. Pictures, a Warner Bros. Entertainment Company.

comments powered by