BATMAN v SUPERMAN: "Dawn of Breakfast"
Author: Ryan Hoss (Follow @SMB_RYAN)
Date: January 17, 2016

March 25th is quickly approaching, and we'll soon be seeing The Dark Knight and the Man of Steel together on the silver screen for the first time. It'll be here before you know it, so let's not forget to "enjoy the ride." This brief period between now and the film's release should give us an endless onslaught of posters, television spots, toys, and merchandise.
One particular piece of marketing thus far has me intrigued. If you were a kid back in 1989, I'm sure you remember this…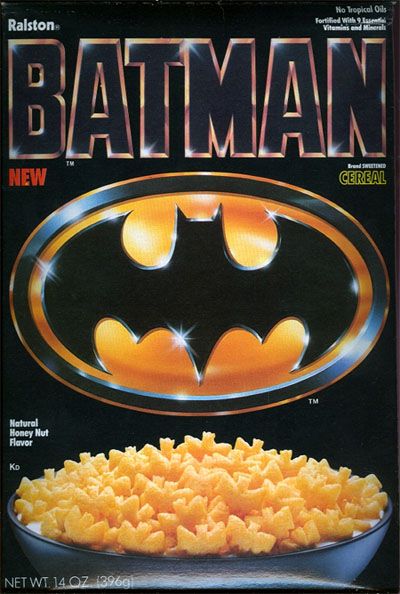 That's right – Ralston's Batman Cereal. I was under 2 years old when the film was released so I missed the boat – initially. As a testament to just how big "Batmania" was back in the day, they kept making the cereal until 1991 and I remember being pretty excited when I finally got my hands on some. It tasted similar to Cap'n Crunch but with more of a honey nut flavor. It probably wasn't that good, but it was "Batman" so how could a kid resist?
History repeats itself in 2016 with General Mills' BATMAN v SUPERMAN Cereal. In an ingenious marketing move, it's not just one cereal: it's two. Batman and Superman each get their own unique box and flavor. Much like the film itself, you're urged to "pick a side" and choose which superhero reigns supreme.
The graphic design and presentation of the boxes is certainly the main draw for purchasing the cereal in the first place. Much of Batman '89's marketing relied solely upon the iconic Batman emblem, and that's used in full force for these cereal boxes. There's not a title or name to be found on the front –it's simply the front of Batman or Superman's costume with an added emphasis on their iconic logos.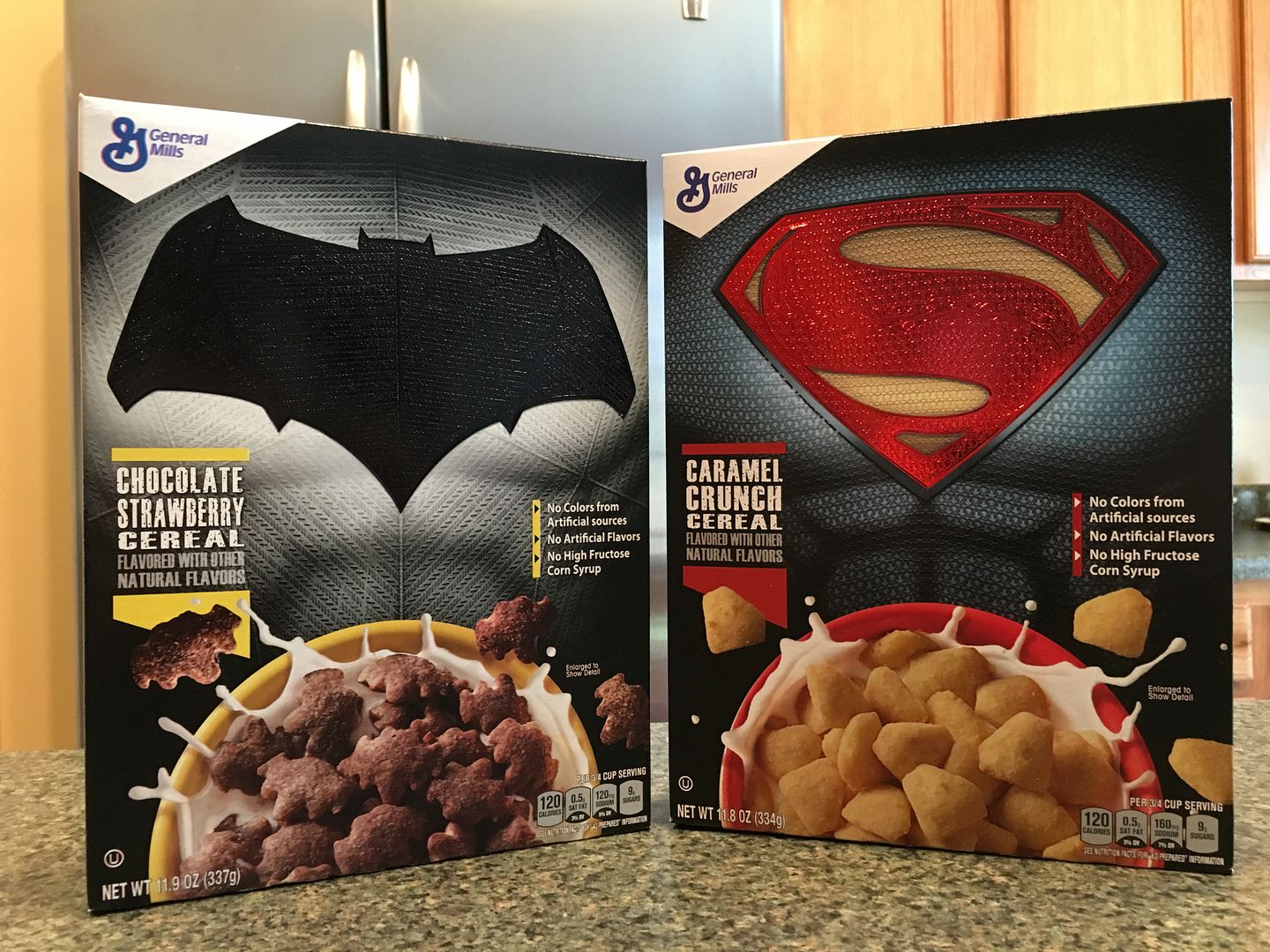 The boxes look even better in person than in the promotional images I've seen. The Batman logo has a glossy finish, while Superman's has a shiny, reflective sheen. You see these things on a store shelf, and they look like an event. The 10-year-old inside me couldn't be happier, so hopefully actual 10-year-olds are having the same reaction.
So, how's the cereal itself? Well…it's cereal. The Batman flavor is "Chocolate Strawberry" in the shape of small Batman emblems (much like the '89 cereal). You do get a strong strawberry smell right out of the box, and for me it does taste like there's too much of the strawberry flavor and not enough chocolate.
The Superman flavor is "Caramel Crunch" in the shape of Superman emblems. This one definitely has a much stronger smell out of the box than the Batman variety. The best description I can think of is that it smells like breakfast. And yeah, it does have a caramel taste and reminds me of something akin to a Cinnamon Toast Crunch.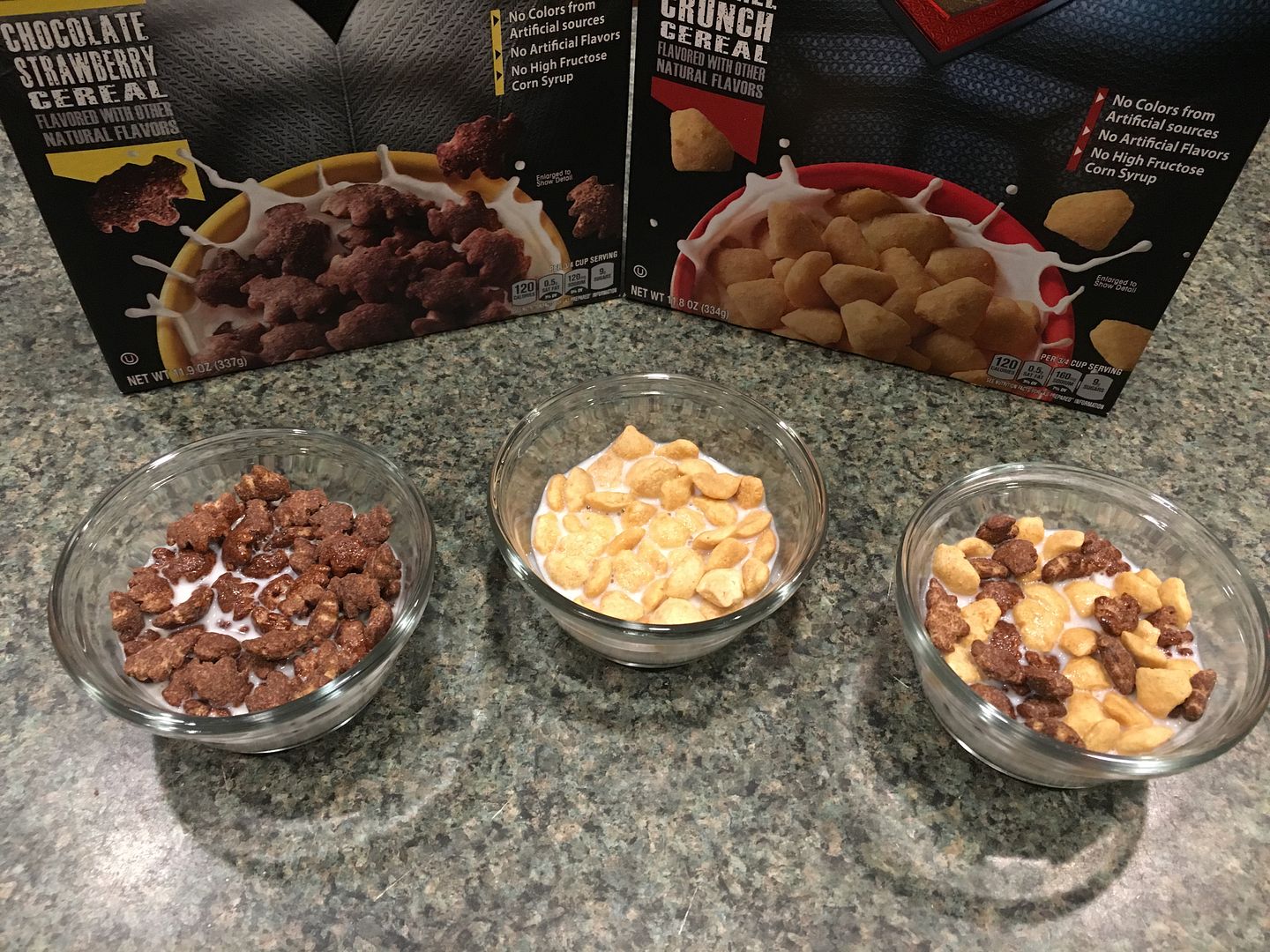 If you want to get really nuts though, you could combine both cereals into one bowl. Then, you would have a true "Batman v Superman" cereal. I wouldn't recommend it though; both flavors just kind of even out and tastes a bit blander than if you ate them separately. If I had to crown a "winner" between the two, I'd pick the Batman one since it's more mellow tasting overall and it's easier to get through a whole bowl of it.
I've seen a lot of "meh" online regarding the taste of both of them, but I don't have too many complaints. Overall, the BATMAN v SUPERMANcereal is a fun promotional event that's designed to get us excited about seeing our two favorite superheroes on the big screen…as well as being part of a balanced breakfast. And most importantly, it's "Batman," and I'm not about to complain about that. - Ryan Hoss
BATMAN v SUPERMAN: DAWN OF JUSTICE hits theaters on MARCH 25, 2016! CLICK HERE for all of BOF's BvS coverage!
Fearing the actions of a god-like Super Hero left unchecked, Gotham City's own formidable, forceful vigilante takes on Metropolis's most revered, modern-day savior, while the world wrestles with what sort of hero it really needs. And with Batman and Superman at war with one another, a new threat quickly arises, putting mankind in greater danger than it's ever known before. Directed by Zack Snyder, the film stars Ben Affleck, Henry Cavill, Amy Adams, Jesse Eisenberg, Diane Lane, Laurence Fishburne, Jeremy Irons, Holly Hunter and Gal Gadot. Snyder directed from a screenplay written by Chris Terrio and David S. Goyer, based on characters from DC Comics, including Batman, created by Bob Kane, and Superman, created by Jerry Siegel and Joe Shuster. The film is produced by Charles Roven and Deborah Snyder, with Wesley Coller, Geoff Johns and David S. Goyer serving as executive producers. Warner Bros. Pictures presents, an Atlas Entertainment/Cruel and Unusual production, a Zack Snyder film, "Batman v Superman: Dawn of Justice." The film opens nationwide in 3D and 2D and in select IMAX theaters on March 25, 2016, and will be distributed worldwide by Warner Bros. Pictures, a Warner Bros. Entertainment Company.

comments powered by