BvS Costume Designer Talks Suits
Posted by: Bill "Jett" Ramey (Follow @BATMANONFILM)
August 18, 2015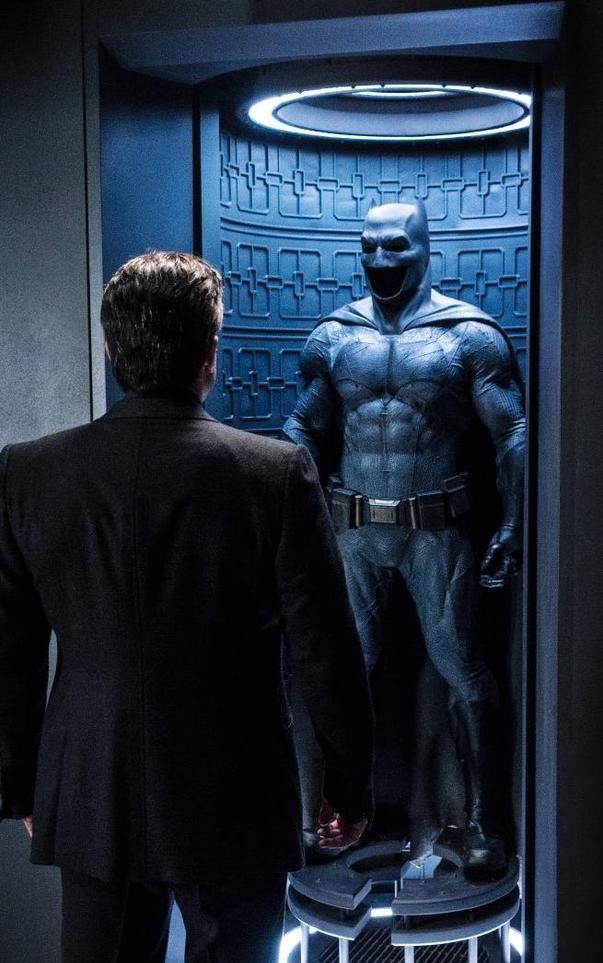 Via PEOPLE'S CHOICE, BvS costume designer Michael Wilkinson talks a bit about the costumes worn by Ben Affleck, Henry Cavill, and Gal Gadot in the film (as Batman, Superman, and Wonder Woman, respectively)...
"To get ready to design the costumes for [the movie], I really did my homework. I immersed myself in the long histories of these iconic characters — Superman [Henry Cavill], Batman [Ben Affleck], and Wonder Woman [Gal Gadot]— I studied how they have been portrayed over the last 75 years on film, on TV, in comic books, graphic novels and video games. I studied what they mean to people, what they stand for, why they are important. I started an exhaustive search for new materials and technologies — original ways of portraying these characters that would be unlike anything audiences have seen before. I wanted the costumes to help make the characters inspirational and relevant to modern audiences."
The Batsuit is a complete 180 degree turn from the previous film incarnations — our Batman's power comes from his incredible physical strength and fighting skills, not from armor. The director Zack Snyder wanted him to look as much like the comic book version as possible — to be respectful to the original source."
"From the moment Ben had the suit on in the first fitting he was hooked. He liked the way it made him feel – powerful and intimidating."
Good stuff. The only thing I take exception with is Mr. Wilkinson saying that the previous incarnations of Batman on film (Keaton, Kilmer, Clooney, and Bale) got their power from the Batsuit's armor. That's simply not the case -- the power of those Batmans (Batmen?) also came from "incredible physical strength and fighting skills." They wore the armor on the outside of the body suit for protection, not to increase their power. I also suspect that this version of the cinematic Batman also spots some sort of body armor -- just like the Batman in the comics. Gotta be "comic book faithful."
For the full interview -- where Mr. Wilkinson also talks more about the Superman and Wonder Woman suits -- click on the link provided above. And as always, post your thoughts in the comments section below!
BATMAN v SUPERMAN: DAWN OF JUSTICE hits theaters on MARCH 25, 2016!
Fearing the actions of a god-like Super Hero left unchecked, Gotham City's own formidable, forceful vigilante takes on Metropolis's most revered, modern-day savior, while the world wrestles with what sort of hero it really needs. And with Batman and Superman at war with one another, a new threat quickly arises, putting mankind in greater danger than it's ever known before. Directed by Zack Snyder, the film stars Ben Affleck, Henry Cavill, Amy Adams, Jesse Eisenberg, Diane Lane, Laurence Fishburne, Jeremy Irons, Holly Hunter and Gal Gadot. Snyder directed from a screenplay written by Chris Terrio and David S. Goyer, based on characters from DC Comics, including Batman, created by Bob Kane, and Superman, created by Jerry Siegel and Joe Shuster. The film is produced by Charles Roven and Deborah Snyder, with Wesley Coller, Geoff Johns and David S. Goyer serving as executive producers. Warner Bros. Pictures presents, an Atlas Entertainment/Cruel and Unusual production, a Zack Snyder film, "Batman v Superman: Dawn of Justice." The film opens nationwide in 3D and 2D and in select IMAX theaters on March 25, 2016, and will be distributed worldwide by Warner Bros. Pictures, a Warner Bros. Entertainment Company.

comments powered by