Armored Batman & Costumes/Props from BvS!
Posted by: Bill "Jett" Ramey (Follow @BATMANONFILM)
July 9, 2015

First, I need to tell you BOF readers that I am not attending San Diego Comic Con '15 as I have long planned. Why? Well, I found out on Tuesday morning that Warner Bros. would not be hosting any press opportunities at the con for BATMAN v SUPERMAN. As that was the main reason I was attending SDCC this year, I frankly didn't think it was worth my time or money to go after that revelation. Yes, there's a big BvS event taking place Saturday morning in Hall H, but I'm not guaranteed entrance in any way -- even with a press pass. Now, I could basically camp out in line starting Friday night, but, well, that just ain't going to happen. Yes, I got in last year when I was told by a good "FOBOF" that BvS would be there, but that was pure luck that that person was able to get me in at the last moment. The bottom line is that I simply didn't want to travel all that way and not get to cover BvS for BOF and for all BOF readers. To those who were looking forward to my coverage and analysis, I apologize.
However, there is some good news when it comes to BvS at SDCC '15 for you BOF'ers. Sean Gerber is there at the con and will be covering BvS (and other stuff) for his site, MODERNMYTHMEDIA.COM. Sean was able to snag a pic the armored Batsuit from BvS which is on display at SDCC '15...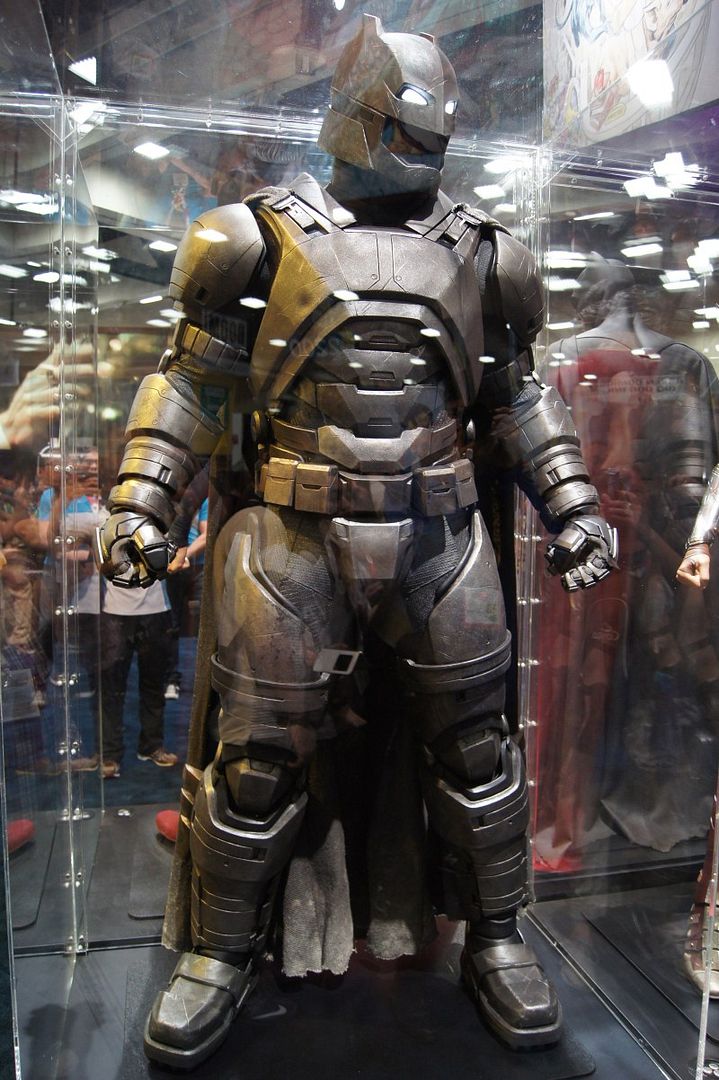 Looks good! Sean also has many other BvS pictures of items from the film that are on display at the con. Click on the picture or the link provided ubove to check all of them out -- including Batfleck's Batarangs and grapling gun. Also, I highly recommend that you follow Sean and MODERNMYTHMEDIA.COM on Saturday for his Hall H BvS report!
BATMAN v SUPERMAN hits theaters on MARCH 25, 2016.
Fearing the actions of a god-like Super Hero left unchecked, Gotham City's own formidable, forceful vigilante takes on Metropolis's most revered, modern-day savior, while the world wrestles with what sort of hero it really needs. And with Batman and Superman at war with one another, a new threat quickly arises, putting mankind in greater danger than it's ever known before. Directed by Zack Snyder, the film stars Ben Affleck, Henry Cavill, Amy Adams, Jesse Eisenberg, Diane Lane, Laurence Fishburne, Jeremy Irons, Holly Hunter and Gal Gadot. Snyder directed from a screenplay written by Chris Terrio and David S. Goyer, based on characters from DC Comics, including Batman, created by Bob Kane, and Superman, created by Jerry Siegel and Joe Shuster. The film is produced by Charles Roven and Deborah Snyder, with Wesley Coller, Geoff Johns and David S. Goyer serving as executive producers. Warner Bros. Pictures presents, an Atlas Entertainment/Cruel and Unusual production, a Zack Snyder film, "Batman v Superman: Dawn of Justice." The film opens nationwide in 3D and 2D and in select IMAX theaters on March 25, 2016, and will be distributed worldwide by Warner Bros. Pictures, a Warner Bros. Entertainment Company.

comments powered by