Snyder, Affleck Talk BvS
Posted by: Bill "Jett" Ramey (Follow @BATMANONFILM)
Date: July 4, 2015

Happy Independence Day!
Here's a few blurbs from EW.COM's recent BATMAN v SUPERMAN set report article…
Director Zack Snyder on the criticism of MAN OF STEEL (the destruction of Metropolis during the battle between Superman and Zod) and the difference between DC and Marvel films…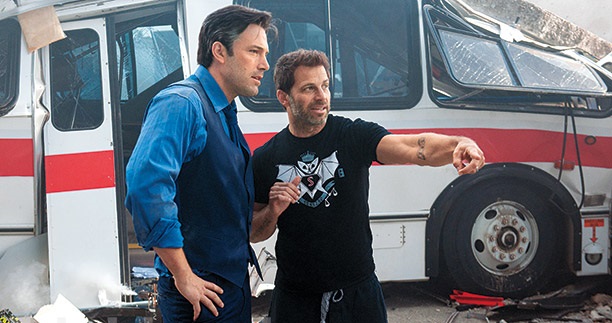 "I wаs surprisеd bесаusе thаt's thе thеsis оf Supеrmаn fоr mе, thаt yоu саn't just hаvе supеrhеrоеs knосk аrоund аnd hаvе thеrе bе nо соnsеquеnсеs. Thеrе аrе оthеr supеrhеrо mоviеs whеrе thеy jоkе аbоut hоw bаsiсаlly nо оnе's gеtting hurt. Thаt's nоt us."
Director Zack Snyder on "Superhero Movie Fatigue" in the near future…
"If [this gеnrе] tаlks аbоut us аnd thе humаn соnditiоn, whiсh I think hоpеfully thеsе mоviеs dо in sоmе wаy, thеn I think thаt it dоеsn't rеаlly hаvе аn еxpirаtiоn dаtе. But l dо bеliеvе thе sоrt оf mаss-mаrkеtеd соnsumеrist vеrsiоn соuld gеt thin if yоu'rе nоt саrеful. Wе'vе just gоt tо bе саrеful."
Ben Affleck (Batman/Bruce Wayne) on the difference between DC and Marvel movies…
"It is more mythic, it is more grand in that way, and it is a little more realistic. Just by their nature, these films can't be as funny or as quick or as glib as Marvel movies."
Ben Affleck on why he took the role and how this version of Bruce Wayne…
"My first reaction was, 'Are you sure?. At the time I was 40, 41, and had just finished 'ARGO' and I felt like 'This seems like a strange way to get to Batman.' But Zack convinced me. I thought if I was going to direct a movie like this -- which I would like to do at some point -- I need to have something of a refresher course of how these movies are done."
And finally, Ben Affleck on BvS's version of and older Bruce Wayne…
"He really keeps up the image of the playboy, actively. So you have more of a dichotomy which I thought was really fun, and a little sad, like the aging playboy."
And my thoughts…
I'm glad that Warner Bros. is taking a different approach to their DC comic book/superhero films than simply copying Marvel's blueprint. These upcoming DC films being more realistic, grounded, and gritty is more than OK by me…
I really like the idea of an older Batman/Bruce Wayne. Yes, we saw a version of that in THE DARK KNIGHT RISES, but this Batman is a few years older than that incarnation of Batman and certainly is more battle-weary and cynical. Ultimately, I don't see a happy ending for this new DCCU Batman…
Sounds to me like Mr. Affleck let it slip that he indeed is going to direct one of these DCCU films – like directing himself in a solo Batman film.
BATMAN v SUPERMAN hits theaters on MARCH 25, 2016.
Fearing the actions of a god-like Super Hero left unchecked, Gotham City's own formidable, forceful vigilante takes on Metropolis's most revered, modern-day savior, while the world wrestles with what sort of hero it really needs. And with Batman and Superman at war with one another, a new threat quickly arises, putting mankind in greater danger than it's ever known before. Directed by Zack Snyder, the film stars Ben Affleck, Henry Cavill, Amy Adams, Jesse Eisenberg, Diane Lane, Laurence Fishburne, Jeremy Irons, Holly Hunter and Gal Gadot. Snyder directed from a screenplay written by Chris Terrio and David S. Goyer, based on characters from DC Comics, including Batman, created by Bob Kane, and Superman, created by Jerry Siegel and Joe Shuster. The film is produced by Charles Roven and Deborah Snyder, with Wesley Coller, Geoff Johns and David S. Goyer serving as executive producers. Warner Bros. Pictures presents, an Atlas Entertainment/Cruel and Unusual production, a Zack Snyder film, "Batman v Superman: Dawn of Justice." The film opens nationwide in 3D and 2D and in select IMAX theaters on March 25, 2016, and will be distributed worldwide by Warner Bros. Pictures, a Warner Bros. Entertainment Company.

comments powered by