BvS Trailer Batman Screenshots/Reaction 2
Posted by: Bill "Jett" Ramey (Follow @BATMANONFILM)
Date: July 12, 2015

CLICK HERE FOR PART 1!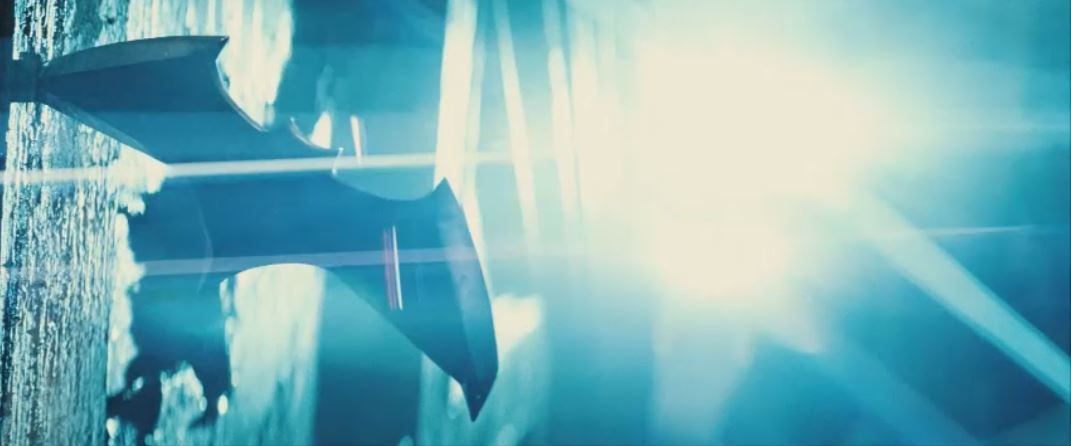 The Batman is back and kicking ass! And apparently, DAILY PLANET reporter Clark Kent has taken an interest in exposing The Batman and calling him out for being an unpoliced vigilante operating outside of the law. Ironic, no?
OK, I told y'all there was a Robin suit hanging in the Batcave! One thing that is a given is that Robin is dead and killed by The Joker (and I'm still hearing Jared Leto filmed a flashback scene that will show him committing the murder). The question is which Robin did that suit belong to and is dead? Everyone assumes that it is Jason Todd simply based on Batman's comic book history. I'm of the opinion that it is not Jason Todd but the original Robin, Dick Grayson. Why? Because, quite frankly, the majority of the mainstream audience doesn't know who the hell Jason Todd is. But they absolutely know who Dick Grayson is. It simply makes more sense – and will have a more emotional impact – if the Robin The Joker beat to death was Dick Grayson.
And yes, I know that means that Nightwing probably won't exist in the DCCU. You know what? That's OK because the character doesn't HAVE to exist just because that's the way it was in the comics. However, I do think we'll end up seeing another Robin in the DCCU – probably in the solo Batman film. Jason Todd? Tim Drake? Carrie Kelly? We shall see.
I can't wait to see this scene between Bruce and Alfred in is its entirety and context in the film!
Batman uncovering the Batsignal (which I assume hasn't been lit for quite some time) and standing next to it in the rain is one of the greatest Batman scenes - aethetically - I've ever seen in a live-action film. Can't wait to see this battle between Batman and Superman!
I'm not really sure why we're going to see the Wayne murders again (we've seen it in BATMAN, BATMAN FOREVER, BATMAN BEGINS, and even on TV during season one of GOTHAM), but I'm OK with it. It's kinda cool that Zack Snyder's old buddy from WATCHMEN - Jeffrey Dean Morgan - cameos as Thomas Wayne. And I believe this will be the first time in live-action that Thomas Wayne has sported a mustache!
CLICK HERE FOR PART 3!
Fearing the actions of a god-like Super Hero left unchecked, Gotham City's own formidable, forceful vigilante takes on Metropolis's most revered, modern-day savior, while the world wrestles with what sort of hero it really needs. And with Batman and Superman at war with one another, a new threat quickly arises, putting mankind in greater danger than it's ever known before. Directed by Zack Snyder, the film stars Ben Affleck, Henry Cavill, Amy Adams, Jesse Eisenberg, Diane Lane, Laurence Fishburne, Jeremy Irons, Holly Hunter and Gal Gadot. Snyder directed from a screenplay written by Chris Terrio and David S. Goyer, based on characters from DC Comics, including Batman, created by Bob Kane, and Superman, created by Jerry Siegel and Joe Shuster. The film is produced by Charles Roven and Deborah Snyder, with Wesley Coller, Geoff Johns and David S. Goyer serving as executive producers. Warner Bros. Pictures presents, an Atlas Entertainment/Cruel and Unusual production, a Zack Snyder film, "Batman v Superman: Dawn of Justice." The film opens nationwide in 3D and 2D and in select IMAX theaters on March 25, 2016, and will be distributed worldwide by Warner Bros. Pictures, a Warner Bros. Entertainment Company.

comments powered by