Lex Luthor Disses "The Batman" in new WIRED Magazine Interview
Posted by: Bill "Jett" Ramey (Follow @BATMANONFILM)
Date: December 17, 2015

In an new "interview" with WIRED.COM, Lex Luthor talks about "The Batman" and his brand of justice in this day and age...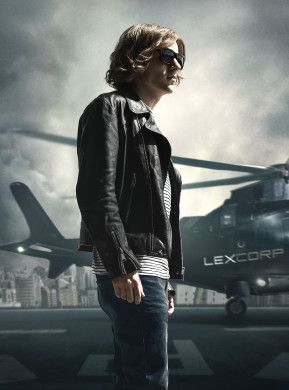 RON TROUPE: And what are your thoughts on the Batman? He's human. Presumably.
LEX LUTHOR: Well, he is. In fact, I'd say he's all too human. Any objective analyst will tell you that his brand of justice, vigilantism, is painfully outmoded, designed to be effective in an age when the law carried billy clubs because crime carried knives. The most dangerous guy on the street worked in the shadows because he was cowardly and superstitious. That's all you needed to play upon in order to disrupt their operations. You want to clean up the streets? Dress up like the boogeyman, switch on a fog machine and lower your voice.
RON TROUPE: When you put it that way, it sounds ridiculous.
LEX LUTHOR: It didn't when the Batman first appeared, but that was a long time ago. This is a new world, Ron, and it's time to get serious. Look at it from the other side: today, there are more criminals than ever. If you're a criminal, that means more competition. So if you're going to survive in that economy, you have to be better; you have to edge out your rivals. Shouldn't the same be true for those on the side of the law? If justice is going to survive in the new global paradigm, we have to get better, invest in new disruptive technologies, think outside Pandora's Box. Who has the resources to do it? The government? No; the only thing holding that old purse together is a thick layer of impenetrable red tape. Vigilantes like the Batman? Not unless they have access to vast amounts of untold riches.
Sounds like Mr. Luthor doesn't have much repsect for his elders. For the full "interview," click on the link provided above.
BATMAN v SUPERMAN: DAWN OF JUSTICE hits theaters on MARCH 25, 2016!
Fearing the actions of a god-like Super Hero left unchecked, Gotham City's own formidable, forceful vigilante takes on Metropolis's most revered, modern-day savior, while the world wrestles with what sort of hero it really needs. And with Batman and Superman at war with one another, a new threat quickly arises, putting mankind in greater danger than it's ever known before. Directed by Zack Snyder, the film stars Ben Affleck, Henry Cavill, Amy Adams, Jesse Eisenberg, Diane Lane, Laurence Fishburne, Jeremy Irons, Holly Hunter and Gal Gadot. Snyder directed from a screenplay written by Chris Terrio and David S. Goyer, based on characters from DC Comics, including Batman, created by Bob Kane, and Superman, created by Jerry Siegel and Joe Shuster. The film is produced by Charles Roven and Deborah Snyder, with Wesley Coller, Geoff Johns and David S. Goyer serving as executive producers. Warner Bros. Pictures presents, an Atlas Entertainment/Cruel and Unusual production, a Zack Snyder film, "Batman v Superman: Dawn of Justice." The film opens nationwide in 3D and 2D and in select IMAX theaters on March 25, 2016, and will be distributed worldwide by Warner Bros. Pictures, a Warner Bros. Entertainment Company.

comments powered by