BvS to Open in China on March 25th
Posted by: Bill "Jett" Ramey (Follow @BATMANONFILM)
Date: February 7, 2016

Per VARIETY.COM, BATMAN v SUPERMAN will open in China on the same day as the film's March 25, 2016 domestic release date.
This is nothing but GREAT news for BvS.
According to the trade, the date of the China release means that BvS will get a "near simultaneous" day-and-date release domestically and worldwide.
Furthermore, the article states that this move "...minimizes the erosive effects of piracy in the world's second largest theatrical marketplace, and maximizes the effect of the global publicity and marketing campaigns."
Indeed.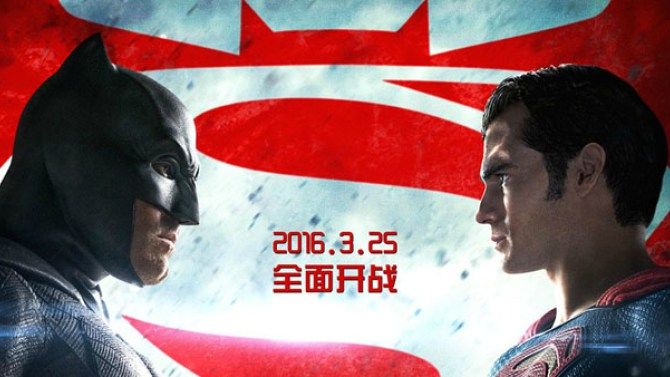 As previously stated, this is GREAT news for BvS -- a film that, quite frankly, seemingly has very little "buzz" right when it comes to the mainstream audience. (And we'll be addressing that in next weekend's BOF Podcast.)
Of course, the proof will be in the puddin' (pun intended). If BvS is a good to great film, the box office will take care of itself as it should -- just like Bruce Wayne's arms in BATMAN BEGINS.
What do you all think? Put your "Bat-Fandom" aside, OK? Do you think there's any mainstream "buzz" about BvS? If so or if not, why? Post your thoughts in the comment section below.
BATMAN v SUPERMAN: DAWN OF JUSTICE hits theaters on MARCH 25, 2016! CLICK HERE for all of BOF's BvS coverage!
Fearing the actions of a god-like Super Hero left unchecked, Gotham City's own formidable, forceful vigilante takes on Metropolis's most revered, modern-day savior, while the world wrestles with what sort of hero it really needs. And with Batman and Superman at war with one another, a new threat quickly arises, putting mankind in greater danger than it's ever known before. Directed by Zack Snyder, the film stars Ben Affleck, Henry Cavill, Amy Adams, Jesse Eisenberg, Diane Lane, Laurence Fishburne, Jeremy Irons, Holly Hunter and Gal Gadot. Snyder directed from a screenplay written by Chris Terrio and David S. Goyer, based on characters from DC Comics, including Batman, created by Bob Kane, and Superman, created by Jerry Siegel and Joe Shuster. The film is produced by Charles Roven and Deborah Snyder, with Wesley Coller, Geoff Johns and David S. Goyer serving as executive producers. Warner Bros. Pictures presents, an Atlas Entertainment/Cruel and Unusual production, a Zack Snyder film, "Batman v Superman: Dawn of Justice." The film opens nationwide in 3D and 2D and in select IMAX theaters on March 25, 2016, and will be distributed worldwide by Warner Bros. Pictures, a Warner Bros. Entertainment Company.

comments powered by