SOURCE: BvS is "Darker" Than MAN OF STEEL
or THE DARK KNIGHT TRILOGY
Posted by: Bill "Jett" Ramey (Follow @BATMANONFILM)
Date: March 10, 2016

Let me say this right up front: I have NOT seen BATMAN v SUPERMAN…yet. I am seeing it soon (really soon) and I will be under an embargo which I will honor; thus, my own thoughts/opinions on the film – including social media posts – will not be revealed until the embargo is lifted (around 3/21 I suspect). So, what you read below is NOT coming from yours truly.
However, I DO know a few folks who have seen BvS and all of them really liked it. In fact, no one I know who has seen it had anything negative to say about it. Another common thread from all these unrelated "Friends of BOF"/sources is that BvS is nothing like a Marvel Cinematic Universe film. It's darker, less "comic-booky," if you will, and more "realistic" than any MCU film. None of these individuals – who do like the Marvel films – meant this as a knock on the MCU; it's just the fact of the matter.
Yesterday, another FOBOF emailed me and asked if I had seen BvS yet. He had and was "dying to talk to someone about it." I told him that I had not and to PLEASE not spoil it for me. With that said, I did ask him a few questions about BvS and he answered them – under the caveat that I didn't want to know any specifics, plot points, etc. In other words, I didn't want the film to be spoiled for me! He obliged and here's his non-spoilerish thoughts on BvS…
* Ben Affleck as Batman/Bruce Wayne and Jesse Eisenberg as Lex Luthor are the standouts as has been previously reported.
* This new Batman is brutal and doesn't hold back.
* The portrayal of Lex is a very modern take on the character. He's completely two-faced and the trailers don't do him justice.
* Gal Gadot as Wonder Woman/Diana Prince is great, but her role is quite small.
* Superman does "Superman things."
* All references to future JUSTICE LEAGUE characters are handled very well and the film doesn't feel crammed or rushed – the 2.5 hours flew by!
The film is really dark – maybe even darker than Chris Nolan's Batman films. It's definitely darker than MAN OF STEEL. It's closer to WATCHMEN in my opinion than THE DARK KNIGHT TRILOGY or MAN OF STEEL
* The reason why Batman and Superman are against each other is handled in a very organic manner and there are some fantastic parallels drawn between these two very different characters.
* A LOT happens and screen time isn't wasted!
* It's not what I expected; but having said that, its one of the reasons I'm dying to see it again (as are a couple of other people I know who've seen it).
I know that this is a film that I'm going to like. I'm a fan of the "dark, serious, and real world" tone that the DCEU powers-that-be have said they are going for. How this will play with the mainstream audience remains to be seen. What do you think? Post your thoughts in the comments section below!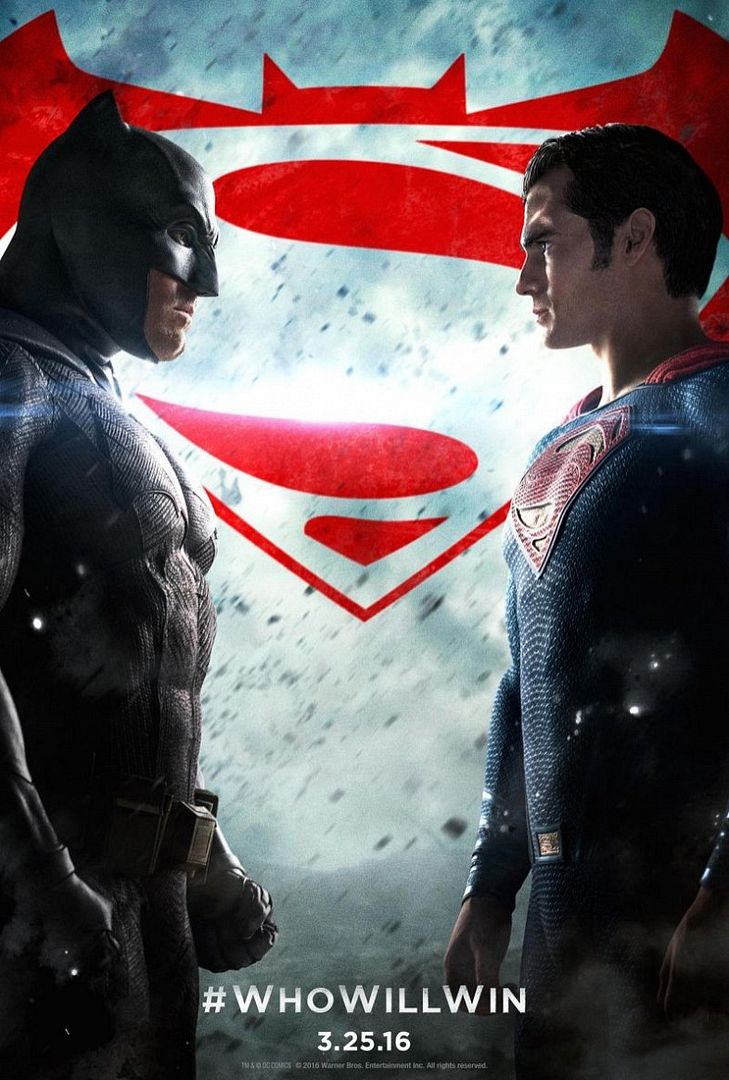 BATMAN v SUPERMAN: DAWN OF JUSTICE hits theaters on MARCH 25, 2016! CLICK HERE for all of BOF's BvS coverage! And don't forget, tickets are on sale now!
Fearing the actions of a god-like Super Hero left unchecked, Gotham City's own formidable, forceful vigilante takes on Metropolis's most revered, modern-day savior, while the world wrestles with what sort of hero it really needs. And with Batman and Superman at war with one another, a new threat quickly arises, putting mankind in greater danger than it's ever known before. Directed by Zack Snyder, the film stars Ben Affleck, Henry Cavill, Amy Adams, Jesse Eisenberg, Diane Lane, Laurence Fishburne, Jeremy Irons, Holly Hunter and Gal Gadot. Snyder directed from a screenplay written by Chris Terrio and David S. Goyer, based on characters from DC Comics, including Batman, created by Bob Kane, and Superman, created by Jerry Siegel and Joe Shuster. The film is produced by Charles Roven and Deborah Snyder, with Wesley Coller, Geoff Johns and David S. Goyer serving as executive producers. Warner Bros. Pictures presents, an Atlas Entertainment/Cruel and Unusual production, a Zack Snyder film, "Batman v Superman: Dawn of Justice." The film opens nationwide in 3D and 2D and in select IMAX theaters on March 25, 2016, and will be distributed worldwide by Warner Bros. Pictures, a Warner Bros. Entertainment Company.

comments powered by