Christian Bale's Bat-Advice to Ben Affleck
Posted by: Bill "Jett" Ramey (Follow @BATMANONFILM)
December 11, 2014

Despite the fact that Christian Bale admitted that he's a little envious that Ben Affleck is now playing Batman, he did have some advice for the new cinematic Dark Knight...
"Be able to take a piss by yourself. I found it to be ridiculously unheroic between takes when I said, 'Excuse me, I need to pee, could somebody undo me please?'"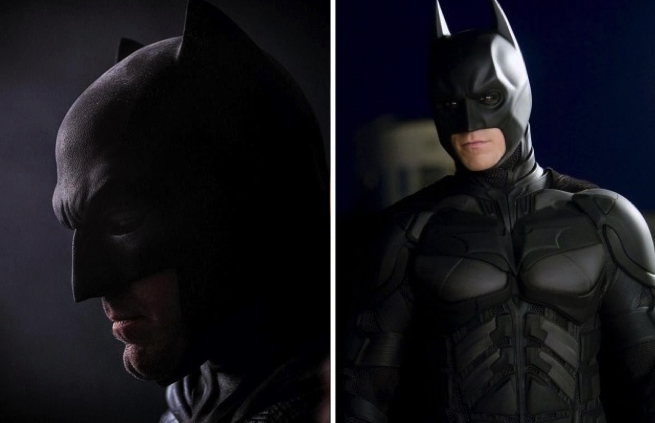 Ben Affleck (L) as The Dark Knight in BATMAN v SUPERMAN
and Christian Bale (R) as Batman in THE DARK KNIGHT RISES
Bale - who played Batman in Chris Nolan's "Dark Knight Trilogy" from 2005 to 2012 - also said that he hopes Affleck's cowl is more comfortable than the one (actually two) he wore. "I took three people 20 minutes with tools in order to take that cowl off (my) head," he said. Of course, the cowl Bale wore for most of THE DARK KNIGHT and all of THE DARK KNIGHT RISES was detached from the neck, unlike all previous versions of the Batsuit dating back to BATMAN in 1989.
And despite the fact Bale was a bit bummed that he's no longer Batman, he seems to be OK with that. "The baton has been passed, that's the nature of Batman," Bale said. "Of course, it was passed a lot quicker than I expected, but I completely understand."
Indeed. AND...
CB knows that his Batman ended at the right time.
SOURCE: NYDAILYNEWS.COM
BATMAN VS. SUPERMAN: DAWN OF JUSTICE hits theaters on MARCH 25, 2016.



comments powered by