Ben Affleck Talks About Playing Batman, BvS, & More
Posted by: Bill "Jett" Ramey (Follow @BATMANONFILM)
Date: March 11, 2016

Check out a few Batman-centric excerpts from a new BvS interview with Ben Affleck from LATIMES.COM...
On why he took the role of Batman after swearing off comic book films…
"I just thought [doing a comic book movie] wasn't a good fit. But I went in and met with Zack and saw this kind of visual 360 of posters and drawings and action figures and animatics — and I was totally blown away. All of the sudden I saw something I'd never seen before and hadn't even imagined."
"This genre is the biggest forum for telling stories in the world right now. You get the biggest megaphone. But this movie is using the genre to explore really interesting themes. And just for me personally…thought, 'I want to be in one of these movies that works.'"
On being the latest actor to play Batman and making the role his own…
"You're right, he's been played by a number of great actors — obviously most recently by Christian [Bale], who's an amazing actor and was directed by Chris Nolan, who's a genius. You don't want to just try to do that because you're not going to live up to it. So the idea is to do something different but that also exists within the canonical realm of what is still considered Batman."
"What I liked about Zack's vision for it is that it's sort of an existential Batman. He's a guy who's not actually in the throes of being Batman but looking back and asking himself, 'Was it worth it?' He's a graying Batman and more of a slugger and more of a man because he's more vulnerable. He's feeding some hole inside him — [burning a brand into] criminals at night, going to these underground fights, having some woman in his bed from some random encounter. He's functioning, but not in a healthy way. He's a haunted and broken guy."
On the first time we see Batman in BvS being like a scene out of horror movie…
"Exactly. It's like out of SE7EN or ALIENS or something, which is a really different vibe. My son still watches the Adam West BATMAN [TV series]. It's a far cry from where it started."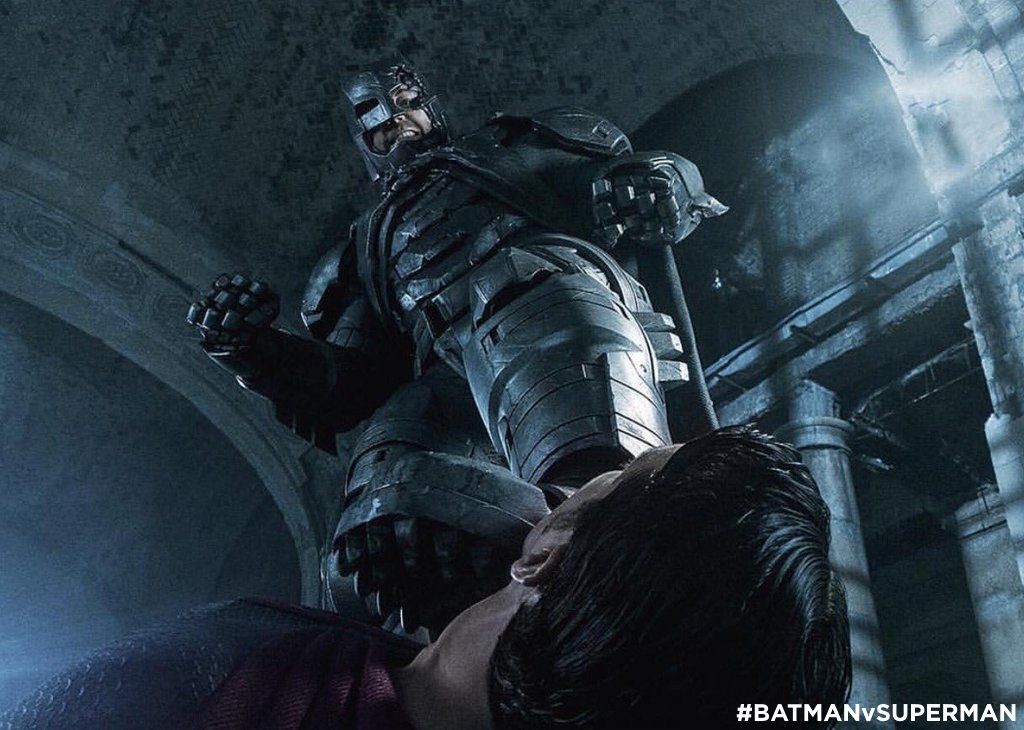 For the full interview – which also features Henry Cavill (Superman/Clark Kent) and director Zack Snyder, click on the link provided above!
BATMAN v SUPERMAN: DAWN OF JUSTICE hits theaters on MARCH 25, 2016! CLICK HERE for all of BOF's BvS coverage! And don't forget, tickets are on sale now!
Fearing the actions of a god-like Super Hero left unchecked, Gotham City's own formidable, forceful vigilante takes on Metropolis's most revered, modern-day savior, while the world wrestles with what sort of hero it really needs. And with Batman and Superman at war with one another, a new threat quickly arises, putting mankind in greater danger than it's ever known before. Directed by Zack Snyder, the film stars Ben Affleck, Henry Cavill, Amy Adams, Jesse Eisenberg, Diane Lane, Laurence Fishburne, Jeremy Irons, Holly Hunter and Gal Gadot. Snyder directed from a screenplay written by Chris Terrio and David S. Goyer, based on characters from DC Comics, including Batman, created by Bob Kane, and Superman, created by Jerry Siegel and Joe Shuster. The film is produced by Charles Roven and Deborah Snyder, with Wesley Coller, Geoff Johns and David S. Goyer serving as executive producers. Warner Bros. Pictures presents, an Atlas Entertainment/Cruel and Unusual production, a Zack Snyder film, "Batman v Superman: Dawn of Justice." The film opens nationwide in 3D and 2D and in select IMAX theaters on March 25, 2016, and will be distributed worldwide by Warner Bros. Pictures, a Warner Bros. Entertainment Company.

comments powered by