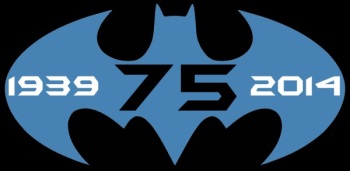 OPINION: "Batman v 75 Years: Dawn of a New Age"
Author: Josh Costella (Follow @JOSHCOSTELLA)
December 18, 2014

The Batman, The Dark Knight, The Caped Crusader, The Worldís Greatest Detective, The Watchful Protector, The Silent Guardian, Beloved, The Detective, Batsy, Bruce Wayne, The Prince of Gotham, and Master Wayne.
Very few characters in fiction have gained so many monikers. But over the last 75 years, The Batman has earned them all. Whether itís a name given to him by his arch nemesis or his most trusted confidants, everyone seems to have their favorite name for the worldís most popular superhero.
There are very few fictional characters that share the same age and overall success rate Batman has enjoyed since 1939. Sure, Batmanís had a fair share of unfortunate time periods but I canít think of any other character thatís had this much success for so many years. When you take a step back to grasp the impact Batman and his creators have had on society and pop culture, itís impressive to say the least.
With 75 years comes a lot of change. Hundreds of costumes, vehicles, gadgets, villains, and characters have given Batman plenty of variety over the nearly eight decades of his comic book existence. Television and film have also made their significant impact on how we as fans and society view Bruce Wayne and his alter ego. The peaks and valleys of tone that inhabit his stories have also varied greatly over the years. Some people were first exposed to the character through the campy but popular 60ís era and others came up through the Miller and Burton school of thinking.
But Batmanís history is not just about costumes, cool cars, and villains. Who he is has made just as significant of an impact as the numerous box office records his films have broken. One thing that has never changed in 75 years has been how he has been a source of inspiration for many. Documentaries like LEGENDS OF THE KNIGHT tell stories of individuals who have used the inspiration they received from Batman to make a positive difference in the world. Unexpected events like what unfolded for Batkid in San Francisco captured the worldís attention and reminded us all of the dreams we lived as children with capes (towels) around our necks.
And now, we find ourselves entering a new era for Batman and for fans. This year, a new film went into production that will finally join Batman, Superman, and Wonder Woman in a live-action format for the first time in cinematic history. The past almost decade has seen the popularity of the character hit all-time highs. Youíd have a difficult time of finding someone who hasnít seen THE DARK KNIGHT or hasnít heard Ben Affleck is the new Batman. Itís an exciting time to be a Batman fan and the next several years have an incredible amount of potential.
Not only is the cinematic version of Batman getting a great head start on the next 75 years but heís also become an inspiration for other superheroes in live-action television. Shows like ARROW have consistently borrowed Batman villains and scenes right out of previous films. The TITANS show currently in development has Dick Grayson as Nightwing poised to be the lead character. And finally GOTHAM is portraying the history of the city before Batman and the childhood years of Bruce Wayne. There might not be a live-action TV show for Batman anytime soon but his presence will always be felt in the ever-expanding TV genre.
When Batman turns 150, most of us will be gone, but the legacy his character has built in his first 75 years will endure. Since 1939, he has been a positive source of escape and protection for those wishing to step outside of their lives for just a short time. His stories have stayed with us and for some, changed how they view themselves and the world around them. He may operate in the fictional city of Gotham but people in every corner of the real globe know who Batman is.
Not too shabby for an old man. - Josh Costella



comments powered by