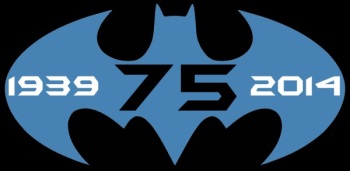 DC Comics Celebrates "BATMAN DAY" w/Timeline Poster & Cover Reveal
Posted by: Bill "Jett" Ramey (Follow @BATMANONFILM.COM)
June 5, 2014

July 23, 2014 is "Batman Day."
On that date, participating comic book shops and book stores will mark this landmark event by providing to customers a new -- and FREE -- version of the original DETECTIVE COMICS #27 which marked the first appearance of "The Bat-Man" back in 1939. However, this version of the classic Batman comic will be written by Brad Meltzer with art provided by Chip Kidd (BATMAN: DEATH BY DESIGN). Current BATMAN artist Greg Capullo is providing the artwork (which probably looks familar if you've read or seen BATMAN #0 back in 2012) for the issues cover.
And check out DC's VERY COOL Batman timeline poster which highlights the major events in the history of The Batman...
Apparently, this awesome poster will not be available for fans to purchase -- which is not a good move by DC Entertainment. Regardless, I'll still be a full participant on "Batman Day" and, in fact, will be in San Diego for Comic Con for the sole reason to celebrate Batman's 75th. If you see me there, PLEASE come say hello. I'll be easy to find because I'll be the dude wearing the Batman T-shirt. Probably this one I got for Batman's party...
It'll look nice under a sports coat, yes?



comments powered by