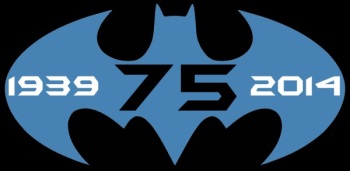 First Look at the USPS's Batman Stamps
Posted by: Bill "Jett" Ramey (Follow @BATMANONFILM.COM)
September 29, 2014

Even though 2014 is starting to wind down, we've still got a few more months to celebrate the 75th anniversary of the greatest fictional character in the history of, well, fictional characters: The Batman. Though it was announced earlier this year, below you'll find our first look at the USPS's Batman 75 stamps...
"Batman is the most popular Superhero of all time, and it is an honor to have the U.S. Postal Service feature the Caped Crusader on this new set of stamps in celebration of his 75th anniversary," says DC Entertainment co-publisher Jim Lee. "Batman has inspired and influenced fans around the world for generations and will continue to do so for the next 75 years and beyond."
The sheet of 20 "Forever" stamps — 49 cents each - has eight designs depicting four "Batman Eras," starting with the first appearance of "The Bat-Man" in 1939 through today.
"He is the quintessential American superhero," says Susan McGowan, the Postal Service's director of stamp services and corporate licensing. "What a great place to celebrate him — on a stamp. We are always looking for ideas and subjects that are important to America. We all quickly thought, 'Wow! This will be thrilling.'"
The first-day-of-issue ceremony for the limited-edition Batman stamp set will be on October 9th at New York Comic Con 2014 - which I sadly will not be attending. However, I WILL be buying these stamps, framing the set, and hanging them in my office.
Man, I LOVE Batman!



comments powered by