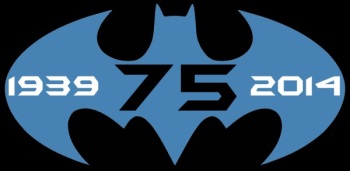 Book Review - BATMAN: A VISUAL HISTORY
Posted by: Bill "Jett" Ramey (Follow @BATMANONFILM.COM)
October 30, 2014

I own a lot of books about Batman. Amongst my favorites are THE ART AND MAKING OF THE DARK KNIGHT TRILOGY, THE BOY WHO LOVED BATMAN (Michael Uslanís wonderful autobiography), BATMOBILE: THE COMPLETE HISTORY, and BILLION DOLLAR BATMAN (For my full list of favorites, CLICK HERE). Now, as the year of Batmanís 75th anniversary is near its end, Iíve got another one to add to the list: BATMAN: A VISUAL HISTORY by Matthew K. Manning.
In short, this is one of the best books about Batman Iíve ever read and it certainly does right by the character and his fans.
This is one big Ė and I mean BIG Ė book that covers Batmanís 75 year history in comics thoroughly. I have other books that are Batman encyclopedias, but this is the best one to date. Every single important moment in Batman history Ė even outside of the comics Ė is depicted in chronological order.
Aesthetically, itís beautiful. It comes in a slipcase with exclusive artwork by the great Jason Fabok. Also included are two wonderful prints that are suitable for framing.
I started reading this book one I received it last week and due to the massive amount of information and pictures included, it indeed to me a week to properly get through it. I highly recommend it to anyone who considers themselves a Batman fan; in fact, itís a must-have.
If you'd like to win a copy of BATMAN: A VISUAL HISTORY from BOF, scroll past the next image and...
1) Go HERE and "like" BOFs Facebook Fanpage.

2) Go HERE and follow BOF on Twitter.

3) Go HERE and follow BOF on YouTube.


4) Do the Batusi!
5) Or, you an simply send your NAME, MAILING ADDRESS, and EMAIL ADDRESS to BOF via CONTESTS@BATMAN-ON-FILM.COM!
Entries must be received by FRIDAY, NOVEMBER 21, 2014.
The winner will be notified via email by MONDAY, NOVEMBER 24, 2014.
Must be 18 years or older to enter.
MULTIPLE ENTRIES WILL BE DISCARDED!

comments powered by