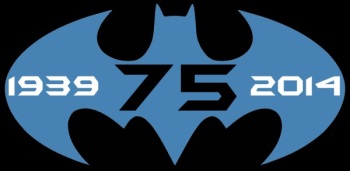 DVD Review: THE ADVENTURES OF BATMAN
Posted by: Bill "Jett" Ramey (Follow @BATMANONFILM.COM)
June 12, 2014

DISCLAIMER: This DVD set was sent to BOF by Warner Bros. Home Entertainment for reviewing purposes.
As part of the yearlong celebration of the 75th anniversary of Batman, Warner Bros. Home Video has released the classic THE ADVENTURES OF BATMAN as a two-disc DVD set with 34 individual short episodes.
THE ADVENTURES OF BATMAN was produced by Lou Schiemer's Filmation Studios and was originally broadcast on American television as part of the "Batman/Superman Hour" on CBS from 1968 to 1969. Of historical significance, this was the first animated incarnation of Batman and the Batman Universe. In addition to Batman, his sidekick Robin also appeared in the series as well as classic Batman rogues such as The Joker, The Riddler, The Penguin, Catwoman, The Scarecrow and Mr. Freeze. Olan Soule and Casey Kasem voiced Batman and Robin respective in this series.
Produced in the late 1960s – as well as overtly trying to be an animated version of the classic 60's live-action TV series – the episodes do indeed feel dated and cartoonish. If you're expecting something along the lines of BATMAN: THE ANIMATED SERIES of the 1990s, you'll be disappointed. However, if you take it for what it is – an important part of Batman history – you'll enjoy it. I'd also recommend this to parents with young children. I watched these episodes on TV when I was a small child and I LOVED them. Along with the previously mentioned live-action BATMAN, it introduced me to the character and world of Batman and helped make me the fan that I still am today, some 45 years later. - Bill "Jett" Ramey



comments powered by