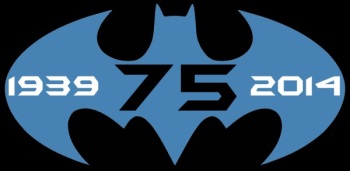 Batman On Film's Batsuits Ranked (Part 1 of 2)
Author: Bill "Jett" Ramey (Follow @BATMANONFILM.COM)
April 27, 2014

Starting in 1943 with the BATMAN movie serial through 2012 and THE DARK KNIGHT RISES, there have been ten incarnations of Batman on film and eleven different versions of the Batsuit. Which one is the best? The worst? Read on Batfans to see how I ranked 'em!
11) BATMAN AND ROBIN (1949)

Robert Lowery as Batman
Horrible. The cowl's Bat-ears look like devil's horns! My homemade Batman costumes I wore as a kid looked better than this! And what's up with the Utility Belt? It looks like Captain Marvel's sash!
10) BATMAN (1943)

Lewis Wilson as The Batman
Historically, this suit is important because it was the very first Batsuit created for a live-action film -- or serial, in this case. This publicity shot of Lewis Wilson as The Batman looks OK; but when you see it in use on film, it doesn't hold up very well to say the least. Despite the fact that this was the very first Batsuit on film, it's still better than the next incarnation six years later.
9) BATMAN AND ROBIN (1997) - Batsuit 2

George Clooney as Batman
This was nothing more than a gimmicked-up version of the "Sonar Batsuit" from BATMAN FOREVER built and included in the film for no other reason than to sale action figures. I'm assuming that the use of silver was supposed to indicate that this was some sort of anti-cold suit in order to properly fight Mr. Freeze – though that's never explicitly stated in the film.
8) BATMAN FOREVER (1995) - Batsuit 2

Val Kilmer as Batman
BATMAN FOREVER's "Sonar Batsuit" isn't really bad per se, but it – like the "Anti-Freeze Batsuit" in BATMAN AND ROBIN - was included bolster toy sales. At least the reason for it's inclusion is actually stated in the film, remember? All the Batsuits had been destroyed when The Riddler trashed the Batcave.
7) BATMAN AND ROBIN (1997)

George Clooney as The Caped Crusader
George Clooney's Batsuit certainly isn't terrible. In fact, it's actually pretty good – except for its bluish hue and, of course, the nipples. Though it's this suit that is most commonly used as the example of nipples on the Batsuit ("UGH!"), lest we forget that Val Kilmer's Batsuit in FOREVER also sported faux mammary glands. Honestly, if it had been black instead of a dark blue and minus the nips, this might've been one of my personal favorite cinematic Batsuits.
6) BATMAN (1966)

Adam West as Batman
Yes, I know this Batsuit is silly and has much more in common with the suit Batman sported in the 1940s serials than those that followed ("The Burton/Schumacher Quadrilogy" and Nolan's "Dark Knight Trilogy"), but it's still pretty cool nonetheless. Honestly, it's a pretty accurate incarnation of the "New Look Batman" of the comics in the 1960s. Could I have ranked it lower on this list? Probably – I'm sure many other Batfans would. But it was this Batman in this Batsuit that made me a Batman fan almost fifty years ago, so I've got a big soft spot in my heart for it.
OK, Batfans, there are only five Batsuits left! How do you think I ranked the top five? How would you rank them? CLICK HERE FOR PART 2 and make sure you provide your own rankings and commentary in the comments section below!
A life-long Batman fan, Bill "Jett" Ramey
is the founder of BATMAN-ON-FILM.COM.
He likes Elvis, The University of Texas,
Dallas Cowboys Football, and of course...
THE BATMAN!
He resides in the GREAT state of TEXAS with his lovely wife, three kids, and two Boston Terriers.



comments powered by