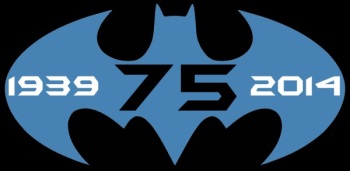 Batman On Film's Batsuits Ranked (Part 2 of 2)
Author: Bill "Jett" Ramey (Follow @BATMANONFILM.COM)
April 27, 2014

Starting in 1943 with the BATMAN movie serial through 2012 and THE DARK KNIGHT RISES, there have been ten incarnations of Batman on film and eleven different versions of the Batsuit. Which one is the best? The worst? CLICK HERE FOR PART 1 and read on to see how I ranked the top five!
5) BATMAN FOREVER (1995)

Val Kilmer as The Batman
Though I quite like the "Panther Suit" from BATMAN FOREVER, I do have an issue with the nipples – which usually gets glossed-over, right? When folks talk about Joel Schumacher's Batman films they typically allude to the mams on George Clooney's suit in BATMAN AND ROBIN. Really, what the hell was Mr. Schumacher thinking when he had the costume designer put nips on both the Batman and Robin suits in this film? Nevertheless, this was a good Batsuit and Val Kilmer looked very Batmanish in it.
4) BATMAN (1989)

Michael Keaton as The Batman
The first "modern" cinematic Batsuit which had a significant influence on all the Batsuits on film that followed – Ben Affleck's cape, cowl and tights excluded at this time, obviously.
I can clearly remember the first time I saw Michael Keaton in this suit. When I was in college, I was "too cool" for comic books. So I'd go down to my local mall's bookstore and read them off the rack. So,it must have been sometime in late 1988 when I first saw MK as Batman and it came via the pages of – I think – COMICS SCENE (or maybe its sister mag, STARLOG) magazine. A year or so prior, I was one of the many Batfans who were bummed out about Keaton being cast as Batman. But it was that promotional pic - the one you see above - in that magazine that got me thinking that "Mr. Mom" as Batman just might work.
Yeah, it weighed like 200 pounds and Keaton was very stiff and stifled in it, but it looked cool as hell! The all-black suit with body armor – yeah, THAT is what Batman would really wear as opposed to a gray leotard and blue cape and cowl!
3) BATMAN BEGINS (2005)

Christian Bale as The Batman
This was the first "realistic" Batsuit on film as it was described as a "…Nomex survival suit for advanced infantry." In other words, this Batsuit has a military/"real world" origin which was very appropriate when it came to Chris Nolan's "keeping it real" directive. Every single thing about Christian Bale's original Batsuit - every single thing - not only made sense in context to the story, but made people think, "Yeah, I could be Batman if I had me one of those suits!"
2) BATMAN RETURNS (1992)

Michael Keaton as a guy dressed like Batman who puts bombs down
people's pants and blows them to smithereens and also incinerates stilt-walkers!
What a great-looking Batsuit! Too bad it was wasted in arguably the worst "Batman film" (Is it really a Batman film?) of all time.
1) THE DARK KNIGHT/THE DARK KNIGHT RISES (2008/2012)

Christian Bale as The Batman
Finally, Batman on film is able to turn his head. 'Nuff said.
Well that should be enough, but I can go on and on about this suit!
Like its immediate predecessor, everything about it was "explained" and made sense in the "real world." The cowl was actually a cowl – much like a motorcycle helmet – and not an entire headpiece that attached to the shoulders. Thus, Batman could finally turn his head – just like I said above.
Unlike the second Batsuits of BATMAN FOREVER and BATMAN AND ROBIN, this suit actually had a purpose and wasn't included simply for the sake of selling more action figures. As Christian Bale's Batman said to Morgan Freeman's Lucius Fox, "I need a new suit." Thus, both Bruce Wayne and Christian Bale got the best and most technologically advanced Batsuit to date.
OK, Batfans, agree/disagree? How would YOU rank the 11 Batsuits on film? Post your list in the comments section below!
A life-long Batman fan, Bill "Jett" Ramey
is the founder of BATMAN-ON-FILM.COM.
He likes Elvis, The University of Texas,
Dallas Cowboys Football, and of course...
THE BATMAN!
He resides in the GREAT state of TEXAS with his lovely wife, three kids, and two Boston Terriers.



comments powered by