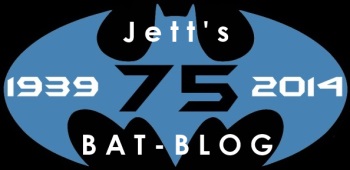 In honor of Batman's 75th anniversary,
I'll be blogging about my almost 50 years as a Batman fan!
BAT-BLOG #5: "BOF's Sweet 16"
Author: Jett (Follow @BATMANONFILM)
June 1, 2014

16 years ago today, BOF began.
On June 1, 1998, I started a website called "JettD60's BATMAN 5 Page." Never in my wildest dreams did I think this little 'ol website that I originally created on a WebTV (HA!) would grow and become the "Batman On Film" that's loved – and loathed by some – that we know today.
Batman has always been an important part of my life. BOF has allowed me to become more than just a fan as it was – and still is – my way of giving back to a character I've loved as long as I can remember. Also, it's also given me the opportunity to do something for the fans of The Dark Knight as well.
But none of that stuff would have been possible if it wasn't for you all – the wonderful "BOF'ers." It is your patronage and loyalty that gives BOF its clout and influence. All of the cool stuff BOF has allowed me to do over the years – set visits, film premieres, meeting a lot of famous Bat-peeps, etc. – is due to BOF's great fans.
What's cool about BOF and its fans is that the whole thing was organic – it just happened. BOF wasn't created to recreate what someone else was doing, and BOF's readers weren't enticed into reading via ads, spam, internet trolling or any other bogus endeavors. Y'all just found me and we've been in this together ever since.
Now, as I look back upon 16 years of BOF, I don't find myself reminiscing any landmark BOF moments. No, I find myself humbled by the experience that has been BOF and in a very thankful state of mind.
So BOF'ers, on this day marking the site's "Sweet 16," I want to say THANK YOU! I truly appreciate each and every one of you for your readership and support over that last 16 years.
Cheers! - Bill "Jett" Ramey
A life-long Batman fan, Bill "Jett" Ramey
is the founder of BATMAN-ON-FILM.COM.
He likes Elvis, The University of Texas,
Dallas Cowboys Football, and of course...
THE BATMAN!
He resides in the GREAT state of TEXAS with his lovely wife, three kids, and two Boston Terriers.



comments powered by