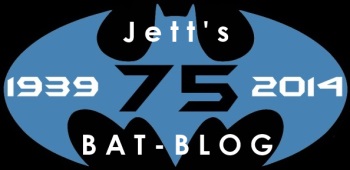 In honor of Batman's 75th anniversary,
I'll be blogging about my almost 50 years as a Batman fan!
BAT-BLOG #2: "From the Light to the Dark and Back"
Author: Jett (Follow @BATMANONFILM)
January 28, 2014

BATMAN #251.
My purchase of that comic for 25 cents in late 1973 changed my Batman fandom forever.
For the first time in my nearly 8 year old life, I discovered the "Dark and Serious" Batman. In other words, I had seen The Batman exactly as his creators intended him to be when they unleashed him upon the world back in 1939.
Goodbye "Pow, Zap, Wham" Batman, hello Dark Knight!
From that point on, I immersed myself in the world of Batman comics. Denny O'Neil/Neal Adams and Steve Englehart/Marshall Rogers – the comics produced by these creative teams in the pages of BATMAN and DETECTIVE COMICS are responsible for forming my personal Batman sensibilities.
So, what about the Batman of TV, animation, and the comics that had originally made me a Batman fan? WELL…
Although I continued to watch Batman's animated adventures on SUPER FRIENDS and, a little later in the 70s, THE NEW ADVENTURES OF BATMAN (which was essentially an animated continuation of the 60s BATMAN TV series), this "silly" version of Batman had become "beneath" me. In fact, pooh-poohed those incarnations of Batman and chalked them up as not being "legitimate." By the time the 80s rolled around and Frank Miller's THE DARK KNIGHT RETURNS was released, I was completely ignoring the stuff that made me a fan of the character in the first place.

My coverless original copy of BATMAN #251!
I had become a "Batman Snob." But over time, one becomes wiser.

My Batman? No, but I can certainly appreciate this now as part of Batman's history!
Yes, "My Batman" is indeed the dark and serious version of the character, and I have BATMAN #251 to thank for showing me the light…err…dark. Chris Nolan's "Dark Knight Trilogy" pretty much captures the Batman that's been running around in my head for decades as opposed to the 1966 BATMAN film that turned me on to The Caped Crusader. However, I've learned to respect and appreciate versions of Batman that may not jibe with my own personal Bat-sensibilities as they are ALL valid interpretations of the character and part of Batman's great history.
Except for BATMAN RETURNS.
A life-long Batman fan, Bill "Jett" Ramey
is the founder of BATMAN-ON-FILM.COM.
He likes Elvis, The University of Texas,
Dallas Cowboys Football, and of course...
THE BATMAN!
He resides in the GREAT state of TEXAS with his lovely wife, three kids, and two Boston Terriers.



comments powered by