10 Bat-Questions With...Michael Uslan
Posted by: Jett (Follow @BATMANONFILM)
January 22, 2014

BOF has provided me with a lot of cool opportunities over the years; I'm not going to lie to y'all about that.
For example, I've been able to meet some of my personal Batman heroes, like the great Michael Uslan who was and is at the top of my list.
You all know "Mr. U" - though he wants me to call him "Michael" but I can't because I'm from Texas and it's how I was raised – as the "Godfather of the Modern Comic Book Film" and the executive producer on all of the Batman movies. He's those things to me as well, but he's also my friend – thanks to BOF. ANYWAY…
Michae…err…Mr. U (Sorry, just can't do it!) was cool enough to participate in BOF's year-long "10 Bat-Questions With…" feature and you can read our short Q&A below. Thanks again Michae…err…Mr. U!
1) What is your very first memory of Batman?
MICHAEL USLAN: The covers for -- then the stories within -- DETECTIVE COMICS #236, 247, and 273.
2) Fill in the blank: "My favorite Batman villain is ___?"
MU: The Joker. He is the greatest super-villain in the history of comic books!
3) Who is the best Batman artist that no one knows about, but should?
MU: If everyone already knows Kane, Robinson, Moldoff, Sprang, Swan, Infantino, Adams, Novick, Rogers, and Giella, I would point out Aparo, Paris, Roussos, and Sayre-Schwartz.

Carmine Infantino's "New Look Batman" of the 1960s
4) The ending to which Batman film moved you the most?
MU: THE DARK KNIGHT RISES!
5) If 'BATMAN' had been a film in the 1940s, who should've played him?
MU: Tyrone Power.
6) I say "Bill Finger" and you say...?
MU: "Co-creator."
7) What is your favorite single Batman comic book story of all time?
MU: "Night of the Stalker."
8) What is your favorite Batman gadget or vehicle -- from the comics or movies -- that you would want to own and use?
MU: Professor Nichols' way-back time machine!
9) Which Batman comic book cover would you want blown-up, framed, and hung in your office?
MU: DETECTIVE COMICS #31.
10) Complete this sentence: "Batman is the greatest comic book superhero every because...?"
MU: "...he's a super-hero with no super-powers."
Thanks again to Mr. Uslan for being a part of BOF's celebration of 75 years of Batman! If you haven't already, make sure you pick up Mr. Uslan's memoir, THE BOY WHO LOVED BATMAN
, ASAP!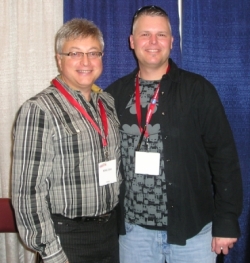 Jett and Mr. Uslan at the 2009 New York Comic Con
If you have any suggestions for guests or questions, send them to me via JETT@BATMAN-ON-FILM.COM.



comments powered by