BOF's celebration of the 75th anniversary of Batman with another installment of "10 Bat-Questions with…." Below, you'll find my Q&A with Rabbi Cary Friedman.
BIO: Cary A. Friedman received an MSEE from Columbia University and Rabbinic ordination from Yeshiva University. He was a Chaplain at Duke University and a Chaplain at the Federal Correction Institute in Butner, NC. He is the author of five books, including WISDOM FROM THE BATCAVE
. Rabbi Friedman, a lifelong Batman fan, is also featured in the wonderful Batman documentary LEGENDS OF THE KNIGHT. Visit his website at BATWISDOM.COM.
1) What is your earliest memories of Batman?
CARY FRIEDMAN: I remember watching the BATMAN TV show in the 1960's. I was born in 1964, so I don't remember watching the early episodes of the series (it began in 1966), but I remember watching, with my older brother, some of the episodes towards the end of the original run of the show, and then the endless reruns that began right after the show ended. I quickly graduated to comic books. My brother lovingly supported my obsession with the Batman during those formative years.
60s BATMAN TV series intro
2) What's your favorite single Batman comic book story?
CF: There are a lot of great stories, and I revere the work of a bunch of writers I love (including Dennis O'Neil, Steve Engelhart, Chuck Dixon, Scott Beatty), but my favorite has to come from that period in my life when the Batman stories made the biggest impression on my young, very impressionable heart, mind, and soul. My favorite stories have always been the ones that highlight the Batman's humanity -- stories like "There is No Hope in Crime Alley," "Night of the Stalker," The Englehart-Rogers run in the mid 70's, and Alan Brennert's "To Kill a Legend" (Detective #500). If Chuck Dixon had been writing the Batman when I was 10, I would have overdosed on happiness.

DETECTIVE COMICS #457/Cover by Dick Giordano
3) The Batsuit: black on gray, blue or gray, or all black?
CF: Black on gray.

Batman by Gregg Capulo from BATMAN (Vol. 2)
4) What's your favorite incarnation of the Batman logo?
CF: Batman Gotham Knights, c. 2003.

BATMAN: GOTHAM KNIGHTS #51/cover by Lee Bermejo
5) Excluding The Batmobile, what's your favorite Bat-gadget?
CF: My favorite Batman gadget is -- to quote the very talented and insightful Scott Beatty -- his moral compass. In his wonderful blurb for my book WISDOM FROM THE BATCAVE, Scott writes that "...above all else the most important item in Batman's utility belt is a moral compass." I couldn't agree more!
6) Favorite member of the Batman Family other than Batman?
CF: My favorite member of the Batman family is the loyalist member of them all, Dick Grayson. They've been through a lot together. I will always be grateful to Chuck Dixon for reframing all that weird, artificial antagonism between Dick and Bruce that the writers dreamed up way back for too many years. Chuck began writing the Batman family and he quickly resolved it as a feature of the complex loving relationship that exists between father and sons.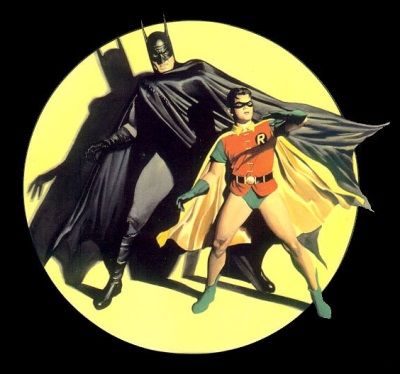 Batman and Robin by Alex Ross
7) What's your favorite live-action Batman film?
CF: I have two favorites: BATMAN'66 and BATMAN '89.
Trailers for BATMAN '66 and BATMAN '89
8) What's your favorite musical score from the Batman films?
CF: Danny Elfman's BATMAN '89 score.
Danny Elfman's BATMAN '89 Score
9) Bat-ears: long or short?
CF: Definitely long!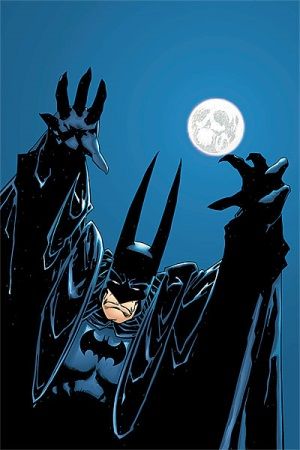 Batman by Kelley Jones
10) Why is Batman so awesome?
CF: This is easily my favorite question, because I've spent most of my life thinking about it. I love the Batman because the character -- more than any other character in fiction I know -- dramatizes the most important moral lessons there are. The Batman mythology teaches about the infinite potential that every human being possesses, how tragedy often becomes the springboard for the greatest accomplishments in life, and the importance of living for an ideal greater than oneself.
I'm grateful to the writers and artists who (with rare exception) took their sacred responsibility seriously and created -- story by story -- a canon of heroism and idealism, and who influenced countless people to pursue goodness and heroism.
My love of the Batman has influenced every aspect of my life -- the person I've become, the character I tried to develop, the career I pursued, the value system I adopted. There's a lot more to be said about this topic, which is why I wrote WISDOM FROM THE BATCAVE! Thank you for the opportunity to talk about my hero!

The comic that started it all back in 1939!
Thanks again to Rabbi Friedman for being a part of BOF's celebration of 75 years of Batman! If you have any suggestions for B75 guests or B75 questions, send them to me via JETT@BATMAN-ON-FILM.COM.