I've got a theory about
BATMAN: THE BRAVE AND THE BOLD
…
The more preposterous an episode, the better it is.
For example, this week's episode -- "Time Out for Vengeance!" -- has the Justice League International on a time-traveling mission with Rip Hunter to save not only THE Batman, but the Bat-MEN throughout history.
Yes, that sounds absolutely ridiculous on paper and I certainly would want to read a comic book with such a plot (*wink*). However, the fine folks behind B:TBATB not only make it work, but deliver one of the better episodes of the series.
So which DCU characters show up in this one? Well, the opening segment features Batman and The Creeper taking on Hellgrammite --- a giant bug who seems to have the power of Linda Blair in THE EXORCIST. The main story gives us the JLI -- Martian Manhunter, Booster Gold, Guy Gardner Green Lantern, Aquaman (I LOVE it when he shows up!), Blue Beetle, Fire, and Ice. The villain of the week? Equinox returns to take out The Batman once and for all by making it so that The Dark Knight never existed!
As far as the different versions of Batman we get to see? Check this out…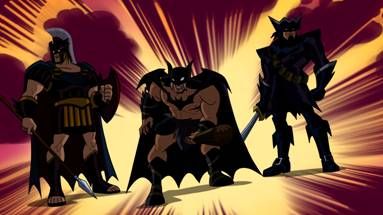 Cave-Batman, Pirate Batman, Bat-Spartacus, and Robo-Bat. Of the four, I was quite fond of Caveman Batman and his "secret hideout" and Bat-Spartacus. Bat-Spartacus -- I chuckle every time I think about that!
If this plot sounds familiar, it's because it's clearly based on the recent "THE RETURN OF BRUCE WAYNE" miniseries in the comics. While the details of the story have been changed, the basic premise of Grant Morrison's story remains the same. I didn't much care for "TROBW" in the comics (thus the *wink* above), but I did like how it was adapted as a B:TBATB episode.
All in all, I found "Time Out for Vengeance!" to be a very above average episode. If you dig clever writing that provides several chuckles -- but never once disrespecting The Batman mythos -- then this one's for you.