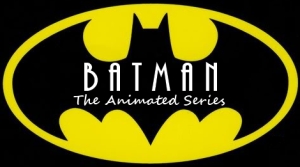 "Beware The Gray Ghost!"
Author: Sean Gerber (Follow @MODERNMYTHMEDIA)
October 6, 2009

Two classic eras of the Batman mythos converge when Adam West guest stars as actor Simon Trent, better known to Bruce Wayne as his childhood television hero, "The Gray Ghost." Someone calling himself the Mad Bomber is mimicking a villain of the same name from Trent's old television series, leading Batman to enlist the help of his former (and current) hero. The result is a treat for Batman fans of all ages and from all eras.

As a longtime fan of the Batman mythos through all of its mediums, it was just about impossible for me to judge this episode as a straight-up Batman story, so I didn't even bother trying. On its surface, the notion of Batman, a trained crime fighter, teaming up with an actor who only played a crime fighter on television is ridiculous. Of course, that issue proves to only be skin deep.

What makes this episode so unique is that it places Batman in the shoes of his fans. The flashbacks of young Bruce Wayne watching his hero while sporting a Gray Ghost costume and clutching an action figure were no different than the real-life scenes that took place in many living rooms for young fans who watched Adam West's Batman in the 1960s (and the reruns thereafter), as well as the young fans watching this exact episode of B:TAS when it first aired.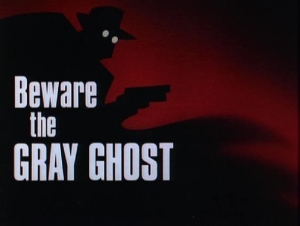 INFO
B:TAS Episode #18
Original Airdate: November 4th, 1992

CREDITS
Story by Dennis O'Flaherty & Tom Ruegger
Teleplay by Garin Wolf & Tom Ruegger
Directed by Boyd Kirkland

CAST
Kevin Conroy as Batman/Bruce Wayne
Bob Hastings as Commissioner James Gordon
Efrem Zimbalist Jr. as Alfred Pennyworth
Mari Devon as Summer Gleeson
Joe Leahy as Narrator
Bruce W. Timm as The Mad Bomber/Ted Dymer
Adam West as The Gray Ghost/Simon Trent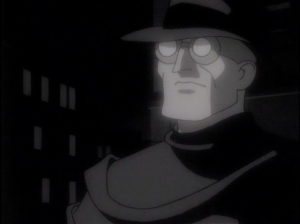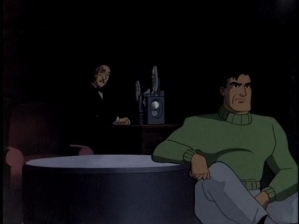 In addition, "Beware the Gray Ghost" features a very emotional glimpse into the frustrations of Simon Trent's post-Gray Ghost career that shares many similarities to the real-life struggles Adam West went through as an actor once his time in the cape and cowl was up. West has the opportunity to live out a fantasy through his character in this episode, as Trent actually gets to solve a mystery as the character he played on television. For a moment, it's almost like watching West actually be Batman.
With two legendary "Batmen" in Kevin Conroy and Adam West teaming up, this is absolutely "must see" viewing for any Batman fan. It is a trip down memory lane with true-to-life parallels that effectively explores the power our favorite fictional heroes can have over us. More importantly, "Beware the Gray Ghost" demonstrates how the men who play our favorite heroes, especially Batman, never lose that status in our forever young hearts. Simon Trent, The Gray Ghost, was still Bruce Wayne's hero even in adulthood just as Adam West and now Kevin Conroy are still heroes of many grownup Batman fans, myself included.
GRADE: A



comments powered by