One "Superhero" of a Class Coming Soon!
Posted by: Bill "Jett" Ramey (Follow @BATMANONFILM)
March 4, 2015


Check this out...

The Smithsonian is hosting an online course titled "The Rise of Superheroes and Their Impact On Pop Culture" and it's being taught by Stan "The Man" Lee, the Godfather of modern superhero cinema, Michael Uslan, and entertainment executive, David Uslan. Here's the details...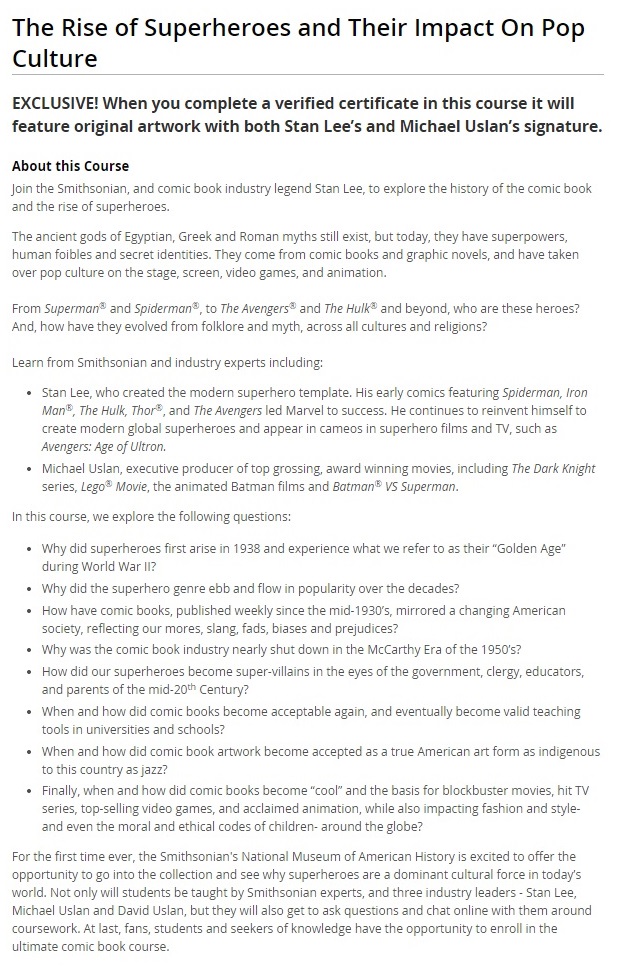 Word. And here's BOF's exclusive quote regardign the course straight from Dr. Uslan himself...
"I taught the world's first college accredited course on comic books back in the early 1970's at Indiana University and taught the first correspondence course on comics, writing the first text book on the subject. The comic book has come along way since then. Over the decades, we've seen it become appreciated as an indigenous American art form worthy of galleries, art museums, and universities. Comic books also mirror our society and have been, since the mid-1930's, a reflector of a changing American culture. Importantly, comic book superheroes are, indeed, our modern-day mythology and our contemporary American folklore which is now being embraced all throughout the world. It's fitting and proper that the Smithsonian Institution now recognizes and honors the entire comic book industry and the art form itself by offering this non-profit course concentrating on this generations-spanning piece of Americana."
If you want to join me in taking this course, CLICK HERE (or on the BIG image above) for more info.



comments powered by