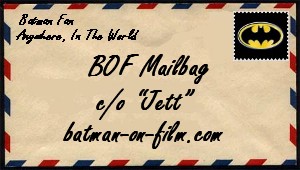 BOF Mailbag for August 12, 2013
Author: Bill "Jett" Ramey
August 12, 2013

Here's a new BOF Mailbag for your reading pleasure. You can ask questions via email at JETT@BATMAN-ON-FILM.COM, by posting them on the BOF FACEBOOK FAN PAGE, or Tweeting them to @BATMANONFILM.
"Do you think that if Heath Ledger had not passed away, THE DARK KNIGHT RISES would've been a totally different movie?"
JETT SAYS: Great question. From talking to Chris Nolan (and others close to the "Trilogy"), I don't think so. Also, I can't see Chris and co. simply rehashing what they did in THE DARK KNIGHT by bringing The Joker back for another film. Wouldn't that be redundant and reek of "Been there, seen that?" And Chris is certainly not a "Been there, seen that" dude. I will say that it did indeed end the way Chris, David Goyer, and Jonathan Nolan always envisioned. The plan was for – if they ever got to do a trilogy – Bruce Wayne to go out on top and happy. And he did.
"My girlfriend wants to know what's it going to take for a Wonder Woman film to get made?"
JETT SAYS: Let me preface my answer by saying that I'd personally LOVE to see a Wonder Woman movie. I always wanted to see such a film done as a period piece set during World War II, but I don't think that's going to happen – especially after Marvel did it with CAPTAIN AMERICA.
Frankly, a Wonder Woman film is a tough proposition. It is true that studios – Warner Bros. included – are very leery of action films with female leads. And while WW is absolutely an iconic character, is there really that much desire out there for a WW film amongst the mainstream audience?
My good friend and esteemed colleague Mark Hughes has a great take on how a WW film should be done: A female (and PG-13) version of 300. The great Michael Uslan – whom I've been able to become friends with over the years – says that if you're going to do a WW film, then you need to take the character back to the basics: Power her down and do NOT make her basically the female Superman she's become in the comics.
While I agree with both Mark and Michael and would totally dig a WW film, I don't know if we'll ever get one. If I had to guess, I think we might, might see the character in MAN OF STEEL 3 which I'm kinda convinced will be a "Trinity" film.
"Do all the DCU animated films HAVE to be around 90 minutes in length?"
JETT SAYS: From what I've been told, yes – primarily due to budget and time constraints. With that said, 90 minutes for the length of these films is OK in my book. If you need to go longer, then I guess you can do a two-parter like then did with THE DARK KNIGHT RETURNS.
As far as seeing THE LONG HALLOWEEN get the animated movie treatment, I'm not sure we'll ever see that happen. I LOVE the graphic novel, but I don't know how well it could be adapted to film – though Chris Nolan, David Goyer, and Jonathan Nolan were big enough fans of it to include a tad of it in THE DARK KNIGHT.
"Bill, if you could pick one Batman story to be turned into one of the animated DCU films, what would it be?"
JETT SAYS: Without a question, it's GOTHAM BY GASLIGHT.
"There were some rumors coming out of (San Diego) Comic Con that a TV series based on GOTHAM CENTRAL was in the works. Have you heard about this and how likely is it to happen?"
JETT SAYS: I'd LOVE to see a gritty, police crime drama set it Gotham! However, I don't think we'll see one – at least not anytime soon. Live-action Batman is currently off-limits – and I do agree with that "business decision" to be honest. Batman is special and should be reserved for the big screen when it comes to live-action. One more thing on this topic…
The rumor that this show would be set in the "Nolanverse," in between the events of THE DARK KNIGHT and THE DARK KNIGHT RISES, AND be show-run by Jonathan Nolan is 100% BULLSHIT and I know this for a FACT.
"Jett, what do you make of this Scott Adkins as Batman news?"
JETT SAYS: For the first time in the history of BOF, I've used the word "BULLSHIT" twice in the same article. Really y'all, this reeks of someone – or someone's fans – trying to get someone's name out there via social media in hopes that Zack Snyder and Warner Bros. will take notice. Nothing personal against Mr. Adkins – who I'm sure is a very cool dude – but there's no way in hell that they'd pass the Bat-torch to this cat. This nonsense is a prime example of why fanboys shouldn't ever, Ever, EVER be taken seriously when it comes to casting these film.
And Orlando Bloom ain't going to be Batman either. Jeez-us!
"Was Christian Bale offered $50 million to play Batman again?"
JETT SAYS: Probably. And I'm sure that Chris Nolan was offered even more to be the "Godfather" of the DCU on film. But guess what? BOTH of these dudes said no. Bale's time as Batman/Bruce Wayne ended with THE DARK KNIGHT RISES as did Chris' direct involvement with Batman on film. This is old news regurgitated by someone via an e-book – in my opinion – trying to cash in on fanboy's desire to see Mr. Bale return.
"Is there any chance of Bruce Timm and Paul Dini getting involved with Warner Bros.' live-action DC Comics movie universe?"
JETT SAYS: Nope.
"Do you think it's possible that Geoff Johns would be open, or allowed, to steer the DC/WB properties like Marvel's Kevin Feige? Or is that not the Warner Bros. way of doing things?"
JETT SAYS: Good question and thanks for giving me the opportunity to address this topic again. Here's the deal y'all…
Warner Bros. Pictures and Marvel Films are two TOTALLY different animals, OK? The former is in the business of making films, period, while the latter is in the business of making films based on the Marvel characters in which they have the rights. Their agendas are totally different and fans need to understand that.
As far as having Mr. Johns be WB's "Mr. Feige?" I wouldn't be totally opposed to that, but I think that position is currently – and unofficially – inhabited by Zack Snyder and David Goyer.
"What's your thoughts about Karl Urban as Batman?"
JETT SAYS: Frankly, he is fan's "Batman darling" of the moment. Do I think he'll be Batman/Bruce Wayne in MOS2/BvS? No.
"What's your favorite food?
JETT SAYS: Based on where I grew up, that's easy! Tex-Mex and Cajun.
"Do you think that the ARROW and its spinoff based on The Flash will be used in the DCU on film?"
JETT SAYS: God, I hope not. TV is TV and film is film. Let's keep it that way. Honestly, I think the fact they're wanting to do a Flash TV series means that we won't be seeing a Flash movie anytime soon.
"Did the lack of 'scenery continuity' in 'The Dark Knight Trilogy' bother you? The GPD rooftop was different in all three films."
JETT SAYS: No. And I don't think there was a lack of "scenery continuity." Emma Thomas told me that the reason they didn't go back to Chicago for RISES was because they wanted Gotham to look "bigger" – and I totally agree with that. But really now, Gotham didn't look all that much different from film to film to film. I'd say the biggest "sore thumb" was The Narrows from BATMAN BEGINS -- and that's mainly due to the fact that that film was shot WAY more on soundstages than the two that followed. Also, the GPD rooftop looked pretty much the same to me.
"Was there an alternate ending to THE DARK KNIGHT where Batman brought The Joker to Arkham and a lady doctor called him 'Mr. J.' Is this story true?"
JETT SAYS: Absolutely, 100% NOT true. Sounds like the kind of nonsense that springs from a fanboy message board and/or an illicit website that simply makes shit up.
"Congrats on 15 years of BOF! I was a 13 year old kid when I found your site back in 2000 and now I'm a 26 year old 'man' with a college degree, a good job, a wife and a kid on the way. Thanks for all you've done Bill. 15 more years of BOF?"
JETT SAYS: Thanks bro! 15 more years of BOF? I hope so LOL! Hey, I'll be BOF'n 'til I can't BOF anymore…or get one of my kids to take over.
A life-long Batman fan, Bill "Jett" Ramey
is the founder of BATMAN-ON-FILM.COM.
He likes Elvis, Rock-N-Roll,
The University of Texas, cold beer,
Dallas Cowboys Football, and of course...
THE BATMAN!
He resides in the GREAT state of TEXAS with his lovely wife, three kids, and two Boston Terriers.



comments powered by