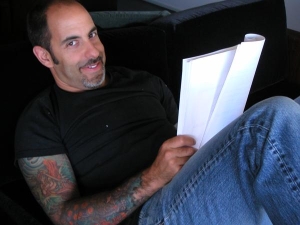 While doing press for his new TV show
FLASH FORWARD
(which sounds interesting, BTW), David Goyer was asked by
IGN
about the status of
BATMAN 3
and Chris Nolan. He didn't say much, but here it is...
"Well, I believe he said if we can find the story that he's happy with, that he would return. And unfortunately, respecting Chris… You know, talk to him after he finishes INCEPTION, which he's shooting right now. That just started shooting."
David also said that he and Chris "have been talking." Frankly, nothing here that we didn't already know. Now a quck rant...
Apparently, many of the outlets running stories based on BOF's recent report on Chris Nolan didn't bother to read the original BOF article in the first place!
I NEVER said that Chris was definitely not coming back, period! So these "No More Batman For Nolan" headlines and stories are BS.
Another thing, I don't believe that Chris and co. are using the internet -- namely THIS SITE -- to negotiate a new contract with Warner Bros. as one of my online colleagues suggested. BOF certainly doesn't have the clout for that and I think Mr. Nolan's better than that anyway. Sheesh!
As far as the "handshake agreement" between Warner Bros. and Chris, it was a rumor and clearly labeled as one on BOF. If there was one, it might have been "Let's agree to see where we are (Nolan and WB) at after INCEPTION with Batman and then we'll both make a final decision."
The bottom line here is that Nolan does not have a deal with Warner Bros. to do BATMAN 3 after INCEPTION and the man doesn't know if he's going to do another one and Warner Bros. is giving him enough time to decide. Regardless, WB is getting -- and should quite frankly -- their ducks in a row just in case the director is indeed done.