Would David Goyer Return to Batman on Film?
Posted by: Bill "Jett" Ramey (Follow: @BATMANONFILM)
April 4, 2013

For some reason, David Goyer doesn't get the credit he deserves for his role on "The Dark Knight Trilogy." This guy was tremendously important to its success and, for some reason, gets unfairly criticized for some of the three film's "shortcomings."
Whatever.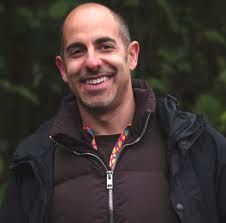 When I attended the party after the New York premiere of THE DARK KNIGHT RISES last July (2012), I was able to tell Mr. Goyer thanks and that I appreciated all that he had done for Batman on film. Anyway…
COLLIDER.COM recent sat down with Mr. Goyer (for his upcoming STARZ project, DI VINCI'S DEMOMS) and asked him if he'd be keen on working on another Batman film.
"Um, I don't know, honestly.
I worked on Batman for 10 years, so that's a lot of Batman.
I'm not sure… I don't really know,
I haven't been asked that yet so we'll see."
I'd have no problem whatsoever with Mr. Goyer working on the inevitable Batman on film reboot – in fact, I'd welcome it. Frankly, I don't think it'll ever happen since the Batman filmmaker will probably want his own guys working on the film along with him.
Of course, you never know, right? I've long advocated Warner Bros. hiring Goyer to oversee DC on film for the studio. If that were to happen, he'd definitely return to Gotham in the future in some capacity.
Hit the link above for the full story which also includes video.


comments powered by