BATMAN BEYOND A Reboot Possibility for Batman on Film?
Posted by: Bill "Jett" Ramey (Follow @BATMANONFILM)
July 17, 2013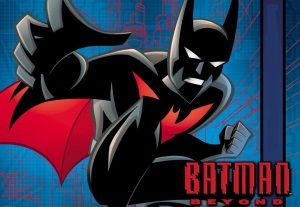 EDITOR'S NOTE: Most -- not all (Thanks IGN and Latino Review!) -- outlets who picked up on the story below reported it WRONG. CLICK HERE for an update.)
BOF has heard some whispers that an adaptation of the animated TV series BATMAN BEYOND is on the table when it comes to the upcoming Batman on film reboot.
This would not be a continuation of Chris Nolan's "Dark Knight Trilogy" where Christian Bale's Bruce Wayne mentors Joseph Gordon Levitt's Batman. (The Nolanverse is done, not coming back, and it's time to move on.) No, it would have nothing to do with the Nolanverse and would feature a dynamic very similar to what we got in the animated TV show. How such a project would fit in a unified DCU on film is unclear.
(If you don't think a solo Batman film series based on BATMAN BEYOND would mesh with a DCU on film -- if there ever is one -- you'd be wrong. The "in his prime" Bruce Wayne Batman could potentially be in a team-up film, while the aged and retired Bruce Wayne Batman would be the version of the same character in the BEYOND solo films. Think "non-linear" -- same Batman, different time periods.)
In the animated TV series – which ran from 1999 to 2001 on The WB (now The CW) television network – an aged Bruce Wayne trains and mentors Terry McGinnis as Gotham City's (actually called "Neo Gotham" on the show) new Batman. An ongoing BATMAN BEYOND comic book series is currently being produced by DC Comics
.
As someone who has longed supported bringing a live-action BATMAN BEYOND to the big screen, you count me in as being totally on board with this idea. (You can read my op-eds on the subject HERE and HERE.) I've always envisioned it being "Batman meets BLADE RUNNER," if you will. Anyway…
Keep in mind that there are various Batman reboot ideas on Warner Bros.' table at the moment. The Batman reboot-ball is indeed rolling!



comments powered by