RUMOR: Batman to be Older in BATMAN VS. SUPERMAN
Posted by: Bill "Jett" Ramey (Follow @BATMANONFILM)
August 1, 2013

UPDATE 2: The following story has been CONFIRMED by THE HOLLYWOOD REPORTER.
UPDATE: If you want more detail on the story you'll read below, check out the latest BOF PODCAST featuring Sean Gerber from "Modern Myth Media," Forbes.com's Mark Hughes, and special guest, "El Mayimbe" from Latino-Review.com. And me -- BOF's Bill "Jett" Ramey. >>> CLICK HERE TO LISTEN TO THE PODCAST!
If this comes to pass, then Bat-Fans of my vintage will certainly dig the casting of the new Batman!
According to several (more than 1, less than 10 *wink*) unrelated BOF sources, the new Batman that will appear in the MAN OF STEEL sequel, will be older. Like mid-40s older.
That tells me that we're definitely not getting a rookie Batman – this new Batman will be a grizzled veteran who has been on the job, if you will, for several years.
So who is going to play the new Batman/Bruce Wayne? I will not confirm or deny whether or not I've heard any names, but I will say that fans should start thinking about dudes who are a very good actors and are in their 40s, like…
Josh Duhamel, Jude Law, Gerard Butler, Josh Brolin, Jon Hamm, Brad Pitt, Ben Affleck, Jim Caviezel, etc.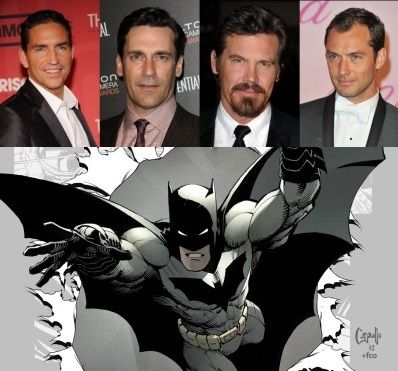 Is the new Batman one of the cats on my list? Maybe, maybe not. Stay tuned!



comments powered by