Bale: Nolan's Batman is Done &
Won't Be Batman in DCU Team-Up Film
Posted by: Bill "Jett" Ramey (Follow @BATMANONFILM)
July 2, 2013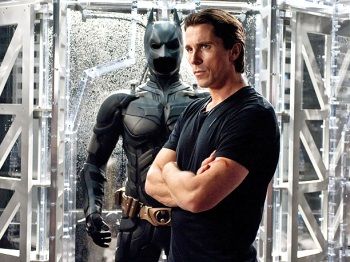 Can we finally put this to rest?
Chris Nolan's said it many times.
Producer Charles Roven has said it.
Zack Snyder and David Goyer -- the director and screenwriter of MAN OF STEEL -- have said it.
And now Christian Bale is confirming it: Nolan's cinematic story is over and he will not reprise his role as Batman in any DCU team-up film.
Per EW.COM, here's what Bale had to say...
"We were incredibly fortunate to get to make three [Batman films]. Thatís enough. Letís not get greedy. Chris [Nolan] always said he wanted to make it one film at a time. And we ended up sitting there looking at each other, saying ĎWeíre about to make the third.í We never really knew if we were going to get to be there, but if that was how it was going to be, this was where it should end as well."
And...
ĒI have no information, no knowledge about anything. Iíve literally not had a conversation with a living soul. I understand that they may be making a Justice League movie, thatís it. [Playing Batman on film is] a torch that should be handed from one actor to another. So I enjoy looking forward to what somebody else will come up with."
Now, Bale might be fudging the truth just a bit here (I'm pretty sure that he did having a conversation or two about playing Batman again IF Nolan's Batman was used in the cinematic DCU), but that doesn't affect the bottom line: "The Dark Knight Trilogy" ended Nolan's Batman, it's not coming back, it will not be used in the cinematic DCU, and Bale's run as Batman is indeed done.
For the full story, click on the link provided above.



comments powered by