"What BATMAN BEGINS Means to Me"
Author: Mark Hughes (@MARKHUGHESFILMS)
Date: June 22, 2005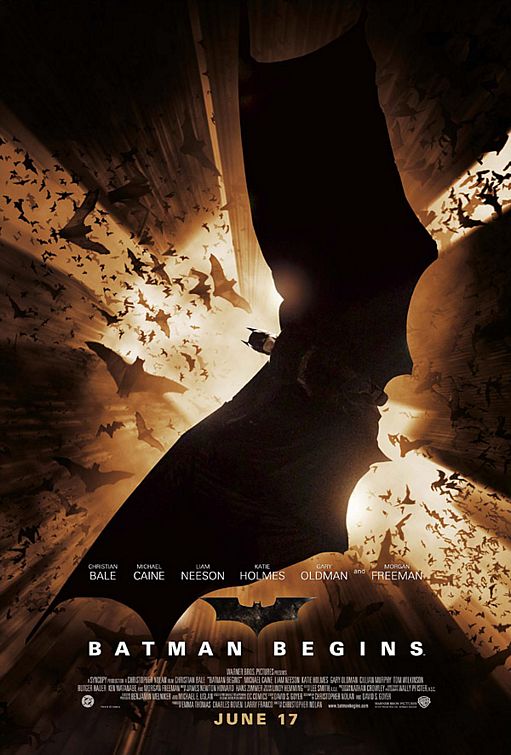 If you're reading this, chances are you already know me and my story: I grew up in rural south, learned to read via Batman comics, remained a lifelong Batman fan, and so on.
I've written here at BOF and elsewhere about my history with Batman many times before, so I won't bore you by reciting all those details again. But this month marks the 10th anniversary of something very great and important, something that changed my love of the character and my experiences as a fan and writer forever.
Yes, it's the 10-year anniversary of BATMAN BEGINS, but what I'm really talking about is something that makes this anniversary even bigger and more important for me – it's the 10-year anniversary of how BATMAN BEGINS, led to my discovery of BOF.
As of 2005, I wasn't much into Internet fan culture at all. I was vaguely aware that a few fan sites existed, but aside from occasionally reading articles from a few outlets, I didn't pay any attention to online fan communities. But that changed with the release of BATMAN BEGINS, when I went searching for some information about the film and came across a link to an article by this Bill "Jett" Ramey at BOF. Realizing the site had all the inside info about the film, I quickly signed up and started reading all of the coverage.
Eventually, I went over to the message boards and started to interact with other fans, and that's when I realized just how big the online fan community really was. Having grown up in a little town with very few comic book fans, and having never sought out other fans much in real life since I never lived anywhere that had any sort of fan community in the first place (I grew up and went to college in the pre-Internet days), this was all new to me. I quickly came to love the interactions with other fans, amazed to be among people who loved Batman as much as I did and could talk about the comics and films seriously.
BATMAN BEGINS was a perfect starting point for my introduction to BOF and the online world of fandom, because the film is probably the best origin story movie of all time and my favorite Batman movie. As the years pass, my esteem for the film continues to grow (it's back at the top of my ranking of the Christopher Nolan Batman films, not just as my personal favorite of "The Dark Knight Trilogy" but also as the one I consider the all-around best of the bunch). It didn't delve so far into the "illusion of realism" that it lost the ability to be fantastical, yet it never went so far into fantasy that it lost the feeling of faux-realism. It was a perfect balancing act.
Watching it back in 2005, it took my breath away to see what I instantly recognized as the definitive origin story for Batman in any medium. It was as if someone had reached into my mind and heart and extracted the single definitive incarnation of Batman for film I'd dreamed of – which was a pretty great place to begin a conversation with Bat-fans around the world.
BOF heightened my whole film-going experience with BATMAN BEGINS, allowing me – for the first time in my life – to share that experience with people who were as much hardcore Batman fans as I was, people who knew what I was talking about when I said "a rooftop scene" or "Miller's Gordon" without any further explanation needed. We speculated about the future, shared our photo-shopped ideas for "what if" casting (mine were horrible, and I'm grateful I wasn't driven out of the message boards with pitchforks for posting such lousy renderings, but as I said I was new to all of this and doing my best with very little to work with).
Through BOF, I met many great fans and friends. Two of my best friends today are the site's owner Bill (or "Jett" as many of you know him) and Sean Gerber (who ended up founding MODERN MYTH MEDIA), another fan like myself who was a member of BOF and became a moderator and administrator over time. I eventually became a mod and then an admin after a while of intensive interactions at BOF, and it became clear that many of us shared very particular attitudes and ideas about not only Batman and movies, but also fandom at large and fan sites.
After a couple of years, I was discussing the film SUPERMAN RETURNS on the BOF message boards and I insist that a good sequel could be made that would get the franchise firmly back on its feet and popular again. Debating this with other fans on the site led me to decide to try to write a screenplay for such a sequel, just for the hell of it to see what I'd come up with. And lo and behold, the results weren't bad, and I found I loved writing it. I rewrote and edited it for months, and eventually figured out this was what I wanted to do with my life — write screenplays. I started working on another, while trying to find a manager or agent to help me get my Superman spec to someone at Warner Bros. (I eventually got a manager based on the strength of that spec, we tried to get interest in it, but events overtook us as the studio decided to reboot and so on — it's an obvious first-time writer's work, but warts and all I still think it would've made a good sequel.)
Meanwhile, I was writing op-eds for BOF, and eventually all of those op-eds plus my decision to write screenplays led me to pursue writing in other places as well, including Quora. Then someone at Forbes noticed my work and hired me four years ago, and I've been happily writing for them ever since.
Three years ago, I finally got to meet up with Bill and Sean in person out here in Los Angeles just before THE DARK KNIGHT RISES hit theaters. We had beer and pizza at Barney's Beanery in West Hollywood, talked about Batman movies, and had a grand ol' time. I'd just moved to LA the previous December, so this was one of my earliest great memories in LA. See? BOF is the gift that keeps on giving!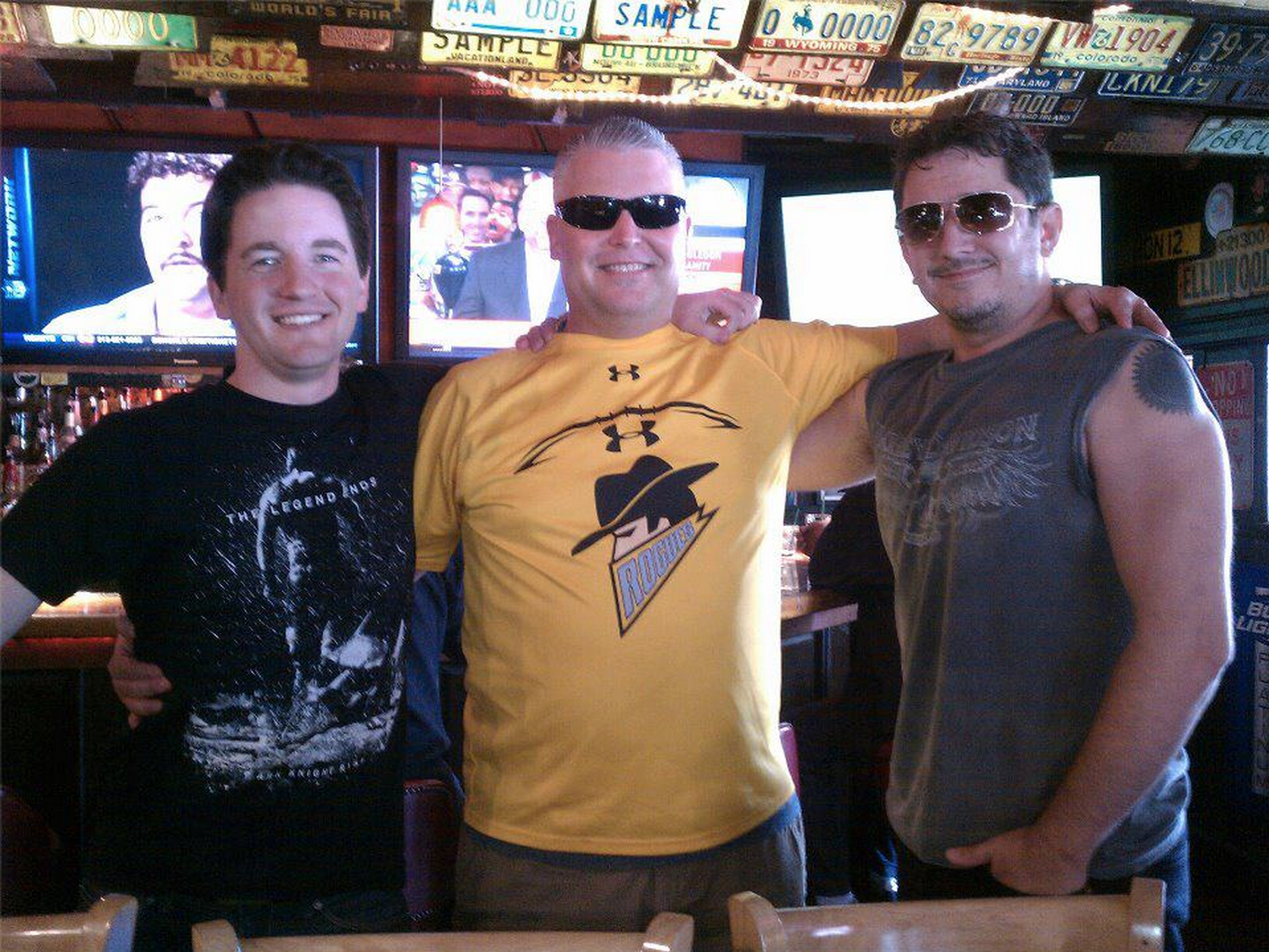 Without BATMAN BEGINS, I'd never have found BOF, and without BOF I'd never have been introduced to the world of online fandom in a way that changed my life in so many ways as a fan and as a writer. So, I'm not merely celebrating the 10-year anniversary of BATMAN BEGINS. I'm also celebrating a decade of having my fan-eyes opened and being part of the BOF family, and 10 years of some of the best friendships in my life. Thanks, Christopher Nolan, and thanks BOFers, for 10 great years! - Mark Hughes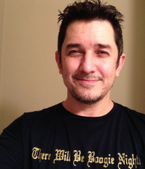 Mark Hughes is a longtime contributor to BOF.
Read his blog on FORBES.COM, and followg him
on Twitter @MARKHUGHESFILMS.

comments powered by