Christopher Nolan Talks BATMAN BEGINS
Posted by: Bill "Jett" Ramey (@BATMANONFILM)
Date: July 30, 2005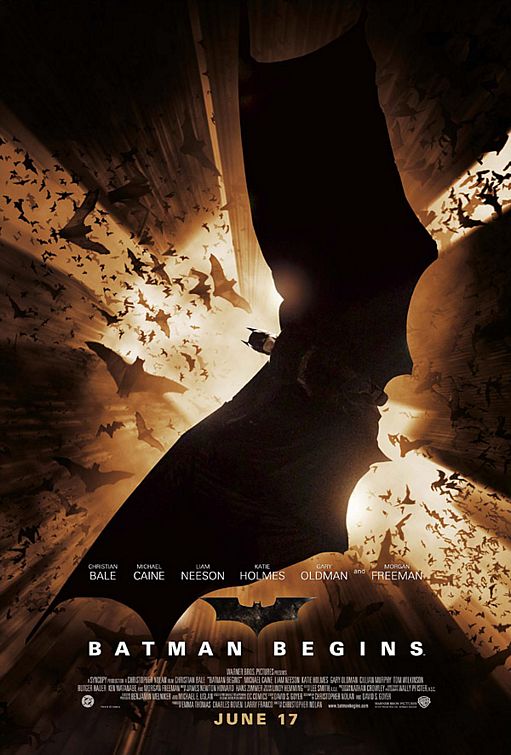 It's no secret that I am a HUGE fan of Christopher Nolan and his BATMAN BEGINS is my favorite Batman film. During the course of him making "The Dark Knight Trilogy," I had the chance to sit down and visit with Chris on several occasions and I found him to be a very nice, smart, and down to earth dude (you can read my 2008 one-on-one interview with Chris HERE). I owe a lot to Chris and his producer wife Emma Thomas as I know a lot of the access that I got when it came to those three films was due to them. One of my most prized, ahem, mementos associated with this site is a hand-written thank you letter to me from Mr. Nolan. So again, I must say "Thank You" yet again to Chris, Emma, and everyone else associated with "The Dark Knight Trilogy" for giving Batman fans a set of films that already is one of the most important parts of Batman's illustrious history.
Throughout 2015, BOF has been celebrating the 10th anniversary of Mr. Nolan's first Batman film, the aforementioned BATMAN BEGINS. Recently, my good friend (and longtime BOF reader and contributor) Mark Hughes of FORBES.COM got to visit with Mr. Nolan about BEGINS and its legacy. Here are a few excerpts from the interview...
On Bruce Wayne's short career as Batman in "The Dark Knight Trilogy"…
"As we started analyzing that and really thinking about the logic of it, and what that would be in the real world, we came to the realization that for us, for our interpretation of Bruce Wayne and Batman in the real world, it should be a symbol. It should be something he sees as a catalyst for change. And we always presented it, and were consistent with it in the three films of mine, as a finite mission in his mind. Which I know is a controversial aspect of the character, but it made the most sense to us to say he sees it as a lever for improving things in Gotham, for getting the good to take back their city from evil, and that at a point that mission will be finished."
On BATMAN BEGINS being more about Bruce Wayne than Batman…
"One of the first things that David Goyer and I talked about when we spoke about what our telling of the origin story of Batman would be, one of the first things we talked about was making Bruce Wayne as interesting an aspect of the film as Batman. We didn't want to make a film where the audience is simply waiting, when Bruce Wayne is on screen, for night to fall and him to become Batman. We wanted the audience to be just as interested in Bruce Wayne as an interesting, heroic figure himself. And we set about that very much with a mind toward a true measured pacing of an origin story, so until almost an hour into the film you wouldn't see Batman."
On whether or not he misses working on Batman films…
"To be honest, the experience of making the three Batman films was completely fulfilling. It was a fantastic time in my life and I enjoyed it very, very much. It was thrilling to have the opportunity to work with that type of passionate interest from fans, and it was great to work with the people I got to work with. But it was completely fulfilling, we didn't leave anything [on the table]."
If you're a fan of Batman on film, "The Dark Knight Trilogy," and Christopher Nolan, Mark's interview is a total must-read! So what are you waiting for? CLICK HERE and read the full interview NOW! (And you can read Mark's BATMAN BEGINS retrospective for BOF HERE.)

comments powered by