UPDATED, 2/26/10:
The blogger who provided the info below has "clarified" his original post. Those sets for
BATMAN 3
"...will be constructed toward the end of the year" per the update. Also, it was
INCEPTION
he was alluding to as coming in under budget, not
THE DARK KNIGHT
. As I said previously,
TDK
did come in under budget according to producers Emma Thomas and Charles Roven, who told me so back in 2008. -
"Jett"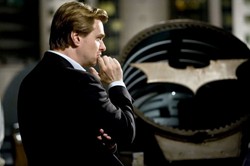 OK, you know the drill, right? "Take this with a grain of salt" and all that. BUT, I'm thinking that this is something legit as it's the sort of stuff that when leaked, it's the most credible. Plot and character revelations -- especially this early in the game -- are usually total BS. Anyway…
According to a blog titled THE MOVING IMAGE, someone who has worked on BATMAN BEGINS, THE DARK KNIGHT, and INCEPTION told the site the following…
"In the earlier post about the BURKE AND HARE film shoot, I mentioned a source's experience with Christopher Nolan on the Batman films and INCEPTION. I forgot to mention that he also said sets were either being constructed, or will soon be constructed, for the third BATMAN, with the possibility of shooting toward the end of the year. He also said that they were coming under budget at the end of THE DARK KNIGHT, so they built a whole extra set (possible usage in the third film)."
To be honest, this passes my BS detector. The one thing that stands out to me is the statement that TDK came in under budget. I know it did because producers Emma Thomas and Charles Roven said that it did while in my presence during my with them at THE DARK KNIGHT press junket (June of '08).
In addition, this certainly adds a bit of weight to Gary Oldman's omission at Comic Con last July ('07) that BATMAN 3 was going to shoot "next year" (meaning 2010).
I figured that B3 wouldn't go in front of the camera until early 2011, but perhaps I'm wrong about that. Maybe some sort of filming will begin by the end of this year.
(Thanks to "Andrew from London" for the heads up!)