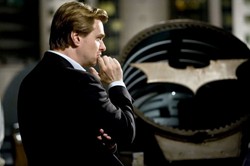 According to three separate
BOF
sources, director Christopher Nolan's recent deal with Warner Bros. for the film
INCEPTION
, at least includes an agreement between the studio and the acclaimed director to helm his second sequel to
BATMAN BEGINS
.
BOF was told last Fall that two of the Batman writing trio -- David Goyer and Jonah Nolan -- had already inked deals with Warner Bros. for a third BATMAN. At the time, it was believed that Chris Nolan had not signed on for BATMAN 3 but was "close" to doing so.
Recent reports online certain seem to jibe with this as industry scuttlebutt says that the script for BATMAN 3 is already being written (BOF via IESB.NET - 1-30-09). BOF has been told by several movie biz folks that Goyer, Jonah Nolan, and Chris Nolan have come up with a story/treatment and it is now in the hands of J-Nol for the first screenwriting pass -- very similar to what occurred for THE DARK KNIGHT.
Again, this appears to be inline with what even Chris Nolan himself has said. During the TDK BD Live event in December, the director said that he and Goyer had been "musing" and acknowledged that there was a story there that they wanted to tell (BOF - 12/19/08).
No official announcement of Nolan's involvement with a third BATMAN was made with last week's INCEPTION press release, and BOF does not expect one any time soon. I will say that the timeline for BATMAN 3 looks to bee very similar to that of THE DARK KNIGHT and the announcement for TDK came in July of 2006 on the eve of Comic Con in San Diego
I still would take this report with a grain of salt -- albeit a very small one. Until it's officially announced in the trades that Chris has signed on for BATMAN 3, all bets are off.