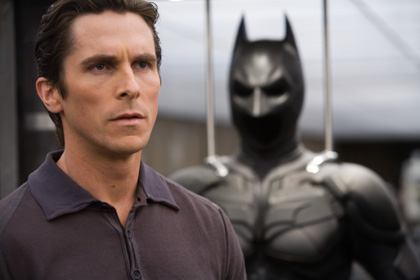 Batman himself, Christian Bale, discusses Heath Ledger's Oscar win,
THE DARK KNIGHT
's Oscar snub, and
BATMAN 3
with
TOTALFILM.COM
. Here are a few excerpts:
* "Heath winning Best Supporting Actor was fantastic. I had dinner with his family a couple of nights before the awards and liked very much they were the people who were picking it up for him. Of course I was really delighted that it did go that way."
* "Iím not surprised by THE DARK KNIGHT not getting more Oscars though. Iím not really surprised by anything to do with awards. Hey listen, awards or not itís a wonderful movie. Chris Nolan did such a fantastic job of it and you look back at the history of the Oscars Ė- some of the best movies never got shit!"
* "Will we do a third movie? It's got to be the right story. You can't make something like THE DARK KNIGHT and then come out with something disappointing. I would like it if people say, 'You'll never make a good third movie.' I say, 'OK, let's make a third movie in that case, let's prove them wrong.' But that's just me. The fact is, I have to! I've signed up! Chris doesn't. So I'm in a bit of a fix if he says he doesn't want to!"
Don't worry Christian, I think you'll end up doing that contractually obligated BATMAN 3 with Chris Nolan as your director! AND...
Since Christian will be doing press for his two upcoming films -- TERMINATOR SALVATION and PUBLIC ENEMIES -- expect more BATMAN 3 talk from CB this Summer.