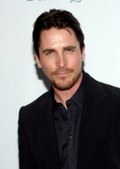 Boy,
THIS
has really caught fire. I actually heard being reported as fact on the radio this morning.
Anyway, here's what was reported: "Sam Worthington, the Aussie actor about to shoot into the stratosphere with his performance in 'Terminator Salvation,' is being tipped as the next Batman. That could mean replacing Bale, his 'Terminator' co-star and 'The Dark Knight' lead, whose profile was damaged after his infamous 'me, me, me' meltdown on the set, which recently hit the internet."
*cough* BS! *cough*
I can report today that that report is nothing more unsubstantial speculation and is…
100% NOT TRUE.
Personally, I blew this off and barley mentioned it on BOF. But like I said, it didn't go away, so I was forced to look into it.
And I did.
And it's BS…officially.