Now this is just NUTS! (But
definitely
is a good way!)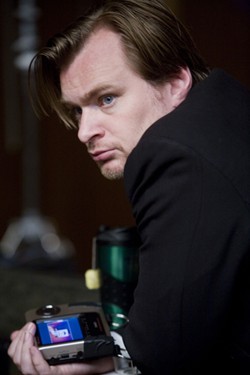 DEADLINE HOLLYWOOD has posted a story this morning saying that not only will Chris Nolan direct BATMAN 3 -- which they insist is currently being scripted by David Goyer and Jonathan Nolan -- but he will also oversee the development of a new Superman film for Warner Bros.! Here's an excerpt from the report…
"Our insiders say that the brains behind rebooted BATMAN has been asked to play a 'godfather' role and ensure The Man Of Steel gets off the ground after a 3 1/2-year hiatus. Nolan's leadership of the project can set it in the right direction with the critics and the fans, not to mention at the box office. Besides, Nolan is considered something of a god at Warner Bros and has a strong relationship with the studio after the success of BATMAN BEGINS and THE DARK KNIGHT. Though he wasn't obligated to do so, he gave the studio first crack at his spec script INCEPTION, and Warner Bros was able to buy it before other studios even got a sniff. While Nolan completes that Leonardo DiCaprio-starrer for a July 16th release, he's also hatched an idea for Warner Bros' third BATMAN installment. Now his brother and frequent collaborator Jonah Nolan, and David Goyer who co-wrote BATMAN BEGINS and penned the story for THE DARK KNIGHT, are off scripting it."
Wow!
What is sounds like to me is that Chris will basically do for SUPERMAN what Bill Parcells does for the NFL's Miami Dolphins -- you know what I mean? Anyway…
This is great news -- especially if you're a Superman fan.
In regards to Goyer and J-Nol written BATMAN 3, I reached out to several industry friends and they confirmed that it is indeed true. Here's a blurb from our friend, "'Ol Slappy "...
"I was actually just in Los Angeles and was checking up on this a bit with my WB friends and it's TRUE! Very exciting stuff."
They did caution me not to expect an official announcement until this Summer. However, with this latest news regarding Nolan and the writting of the script becoming public, that may change things.
I've got to wonder how long has Nolan actually been officially part of BATMAN 3? Could Nolan's deal for INCEPTION have included an agreement for BATMAN 3 as BOF heard back in February of 2009? I'm sure we'll never know for sure and it really doesn't matter. I'm just glad the ball is starting to roll!