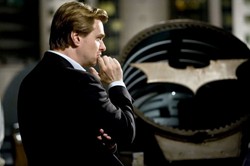 Based on conversations with industry insiders as well as the apparent schedule for
INCEPTION
(preproduction, shooting, and postproduction), itís starting to look like
BATMAN 3
is going to end up being a Summer 2012 release.
Firstly, letís take a quick look at a little Nolan history.
We know now that the script for THE DARK KNIGHT was finished before the end of 2005 -- about a half a year after BATMAN BEGINS was in theaters. Nolan worked on THE PRESTIGE during the latter part of 2005 on into 2006, with the film ultimately being released in October 2006. In July of 2006 while the director was still working on THE PRESTIGE, Warner Bros. officially announced that Chris would helm TDK, it would be released in the Summer of 2008, and that Heath Ledger had been cast as The Joker. Once THE PRESTIGE hit theaters in Fall of Ď06, there was then a six month gap before filming began on TDK.
Right now, INCEPTION is in preproduction. From what Iíve heard through the grapevine, filming will take place from mid-2009 and finish late in the year. Nolan and co. will most likely be involved with post for most of the first half of 2010, readying the film for itís mid-July release.
It looks as if there will be no way that BATMAN 3 can go through pre, filming, and post during the second half of 2010 and the first part of 2011 and be ready for a Summer Ď11 release.
Doing the math, the timeframe between THE DARK KNIGHT to INCEPTION is nine months later than it was between BATMAN BEGINS to THE PRESTIGE -- thatís nearly a year folks. Thus it appears that BATMAN 3 will come four years after TDK.
I know a four year gap is a bummer, but cheer up -- at least we know a Nolan-directed BATMAN 3 is coming!
(And thatís more than we could say back in Ď97 after BATMAN AND ROBIN.)